FTX Founder Sam Bankman-Fried Indicted on Multiple Charges
FTX cryptocurrency exchange founder and former CEO, Sam Bankman-Fried, also known as "SBF," is facing a new 13-count indictment from authorities in the United States. Among the charges is an alleged $40 million bribe to a Chinese government official, as stated in a new superseding indictment filed by U.S. attorney Damian Williams.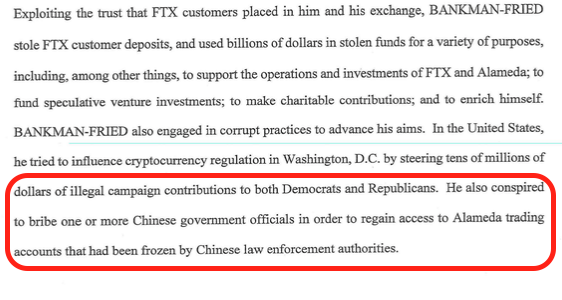 Details of the Alleged Bribery
According to the court filing, SBF and other related parties allegedly "directed and caused the transfer of at least approximately $40 million in cryptocurrency intended for the benefit of one or more Chinese government officials." The accusations claim that the transaction was made to influence and induce Chinese officials to unfreeze cryptocurrency accounts at FTX's affiliate firm, Alameda Research, which reportedly held more than $1 billion worth of cryptocurrency.
The Background: Frozen Accounts and Failed Attempts
The filing reveals that Chinese law enforcement authorities froze certain Alameda accounts on "two of China's largest crypto exchanges" in or around early 2021. SBF was aware of the freeze and attempted various methods to unfreeze the accounts, including trying to transfer cryptocurrency to fraudulent accounts to circumvent China's freeze orders.
The Alleged Bribe and Its Consequences
The court filing states that "after months of failed attempts to unfreeze the accounts, Samuel Bankman-Fried discussed with others and ultimately agreed to and directed a multi-million-dollar bribe to seek to unfreeze the accounts." Following the accounts' unfreezing under SBF's direction, Alameda reportedly used the unfrozen cryptocurrency to fund additional trading activity.
More Legal Troubles Ahead for SBF and FTX?
The 13-count indictment, including the alleged bribery of Chinese officials, presents significant legal challenges for FTX founder Sam Bankman-Fried. As the case unfolds, it remains to be seen what the implications will be for both SBF and the FTX cryptocurrency exchange. Stay tuned to Coin News for the latest updates on this developing story and other news in the world of cryptocurrencies.