Following the recent and long-awaited Shanghai upgrade that now means validators can withdraw staked tokens, the Ethereum (ETH) network has just reached a huge boost thanks to "skyrocketing" interest in staking.
Since 12 April, users have deposited more than 4.4 million ETH according to crypto analytics firm, CryptoRank Platform.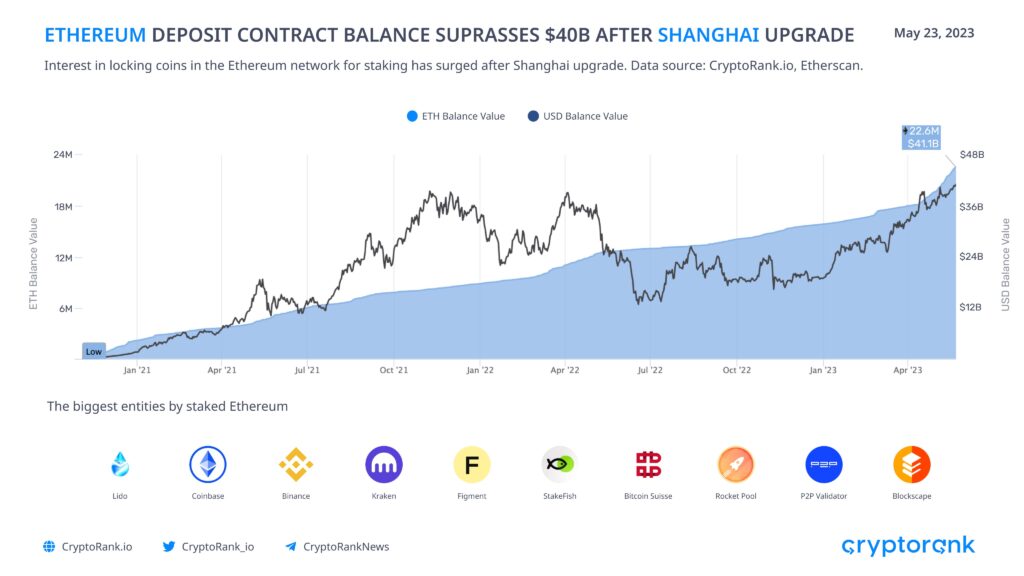 In a tweet posted yesterday, CryptoRank confirmed: "Interest in staking coins in the Ethereum network has skyrocketed after the Shanghai upgrade. More than 4.4 million ETH coins have been deposited into the ETH 2.0 staking contract since 12 April."
On 24 May, the Ethereum deposit contract balance was 22.8 million ETH – or $41.4billion – showing a big increase since the introduction of the new upgrade.
Ethereum slips down
Ethereum is the second-biggest crypto in the world. However, at the time of writing, ETH is not having a good day. It's currently trading at $1,814.75, down 2.2% in the past 24 hours. Its market cap has slipped by 2.17% to $218,247,640,021.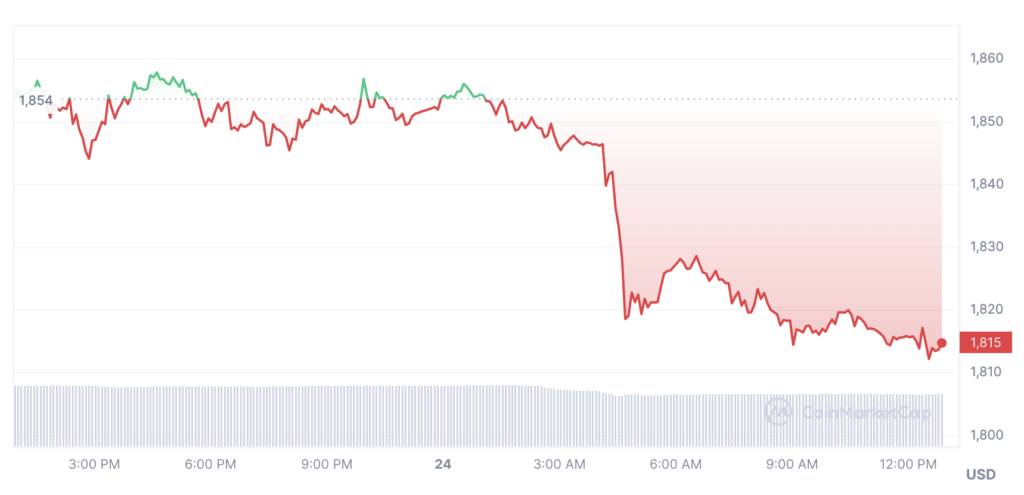 Respected crypto analyst Michaël van de Poppe has chimed in on the latest movements of ETH.
He tweeted: "On the price structure of #Ethereum, not much has changed. It seems to be that we'll need a few more days of chop before we'll have a breakout. Must-hold above $1,825 for continuation here. If that's a go and $1,880 breaks, I'll assume we'll see $2,000 relatively fast."
Bitcoin has also lost ground today and is trading at $26,733.52, a fall of 2.21%. The overall crypto market cap is down 1.92% to $1.12tn.
Meanwhile, ETH creator Vitalik Buterin has recently posted about a warning about "overloading Ethereum's social consensus".
He added: "We should be wary of application-layer projects taking actions that risk increasing the 'scope' of blockchain consensus to anything other than verifying the core Ethereum protocol rules. It is natural for application-layer projects to attempt such a strategy, and indeed such ideas are often simply conceived without appreciation of the risks, but its result can easily become very misaligned with the goals of the community as a whole.
"We should instead preserve the chain's minimalism, support uses of re-staking that do not look like slippery slopes to extending the role of Ethereum consensus, and help developers find alternate strategies to achieve their security goals."