$1inch is in the news today following its sudden price rally to 58% in the past 24 hours. It has also become the second most-traded coin on Upbit with a 24-hour volume of $360million. So what is the latest 1inch price prediction being made as of 17 July 2023? Let's take a look.
1inch explained
First of all, what is 1inch crypto?
Price discrepancies of the same asset can arise due to variations in liquidity, trading fees, and a multitude of other factors across different exchanges. This creates an opportunity for arbitrage trading, allowing users to capitalise on the price difference to make profits.
There is however a major challenge in finding the exchange that provides the best rate and lowest slippage for a particular trading pair, considering that there are quite a number of decentralised exchanges in existence.
1inch Network provides a solution to this problem by searching across multiple exchanges/ liquidity sources and providing a user with the best possible rate.
To better understand the 1inch Network, let us consider a trader, Kennedy, looking to find the best rate for Ethereum (ETH). 
Kennedy starts by visiting the 1inch Network platform, either through the website or a decentralised wallet integrated with 1inch.
He then enters the amount of ETH he wants to buy and selects the desired token he wants to exchange for it. For example, let's say Kennedy wants to trade 1,000 USDT for ETH.
The 1inch DEX aggregator algorithm analyses multiple DEXs and liquidity sources to identify the most favourable rates and liquidity pools for the USDT to ETH trade.
The algorithm considers various factors, such as the available liquidity, trading fees, slippage, and gas fees on each DEX. It takes into account popular DEXs like Uniswap, SushiSwap, and other supported platforms.
Once the algorithm completes its analysis, the 1inch platform obtains the different trading options available with their corresponding rates and estimated gas fees for each DEX. It then splits Kennedy's trade across multiple DEXs, executing the transaction seamlessly and efficiently. By splitting the trade, Kennedy can access better rates and liquidity from multiple sources, which helps to reduce slippage and overall trading costs.
Throughout the process, Kennedy can also benefit from additional features offered by 1inch, such as limit orders. If Kennedy wants to set a specific target price for the USDT/ETH trade, he can utilise the limit order functionality, which will automatically execute the trade when the market conditions meet his specified price.
Once the trade is executed, Kennedy receives his acquired tokens in his wallet. He has successfully accessed the best rates for ETH using the 1inch Network, optimising his trading experience and achieving a more efficient outcome compared to using a single DEX.
Here are some of the benefits 1Inch offers Kennedy over using individual DEXs.
Best price execution: 1inch Network aggregates liquidity from multiple DEXs, ensuring Kennedy gets the best available price for his USDT-to-ETH trade. This maximises the ETH value he receives.
Reduced slippage: By splitting the trade across various liquidity pools, 1inch Network minimises slippage, enabling Kennedy to acquire ETH closer to the expected price.
Access to multiple liquidity sources: 1inch Network's aggregation mechanism allows Kennedy to access liquidity from multiple DEXs, increasing the chances of finding the required amount of ETH and ensuring better market depth.
Gas cost optimisation: 1inch Network optimises the trade route based on gas costs and network congestion, reducing the overall gas fees paid by Kennedy for the trade.
1inch price history
$1INCH token serves as the governance and utility token for the 1inch Network, operating on the Ethereum network. Initially, it was introduced to grant governance rights to participants of the 1inch DAO (decentralised autonomous organisation). However, its utility has expanded over time to include staking, delegating to 1inch Resolvers etc.
1INCH was launched in December 2020 after raising about $189million in multiple funding rounds. Shortly after its launch, 1INCH experienced a surge in interest and trading activity. It started trading on 28 December 2020 at approximately $1.09.
In the following weeks, the price gradually increased, hitting about $2.48 in January 2021. As the entire crypto market experienced an upsurge due to the popularity of DeFi and the entry of institutional investors, 1INCH rallied to a peak of around $7.86 in May 2021. 
However, after reaching its peak, 1INCH price experienced a significant decline. From mid-May onwards, the price steadily dropped, reaching a low point of around $1.7 on 17 May 2021.
Following the low point, the price of 1inch showed some recovery in early June, surging to $3.9. It experienced slight fluctuations between June and July, ranging mostly between $2 and $3. Throughout the rest of the year, 1INCH price range shifted to around $2 to $4, even though it soared to $7.54 in October 2021.
It subsequently ended the year trading around $2.35.
In early 2022, the entire market underwent a correction and 1INCH retraced to about $1.7 by the end of January. The following months were largely uneventful as 1INCH price remained within $1 to $1.9
In the second half of the year, 1INCH price eventually lost the $1 support as the bears took over. From June to October, it showed relative stability, ranging between $0.5 to $0.8.
By November 2022, 1INCH plunged below $0.5 and closed the year further lower at $0.38.
From January 2023 till date, the 1INCH crypto price has shown relatively low volatility, mostly ranging between approximately $0.3 and $0.57.
Currently, 1INCH is trading at $0.47, up 6.97% at the time of writing.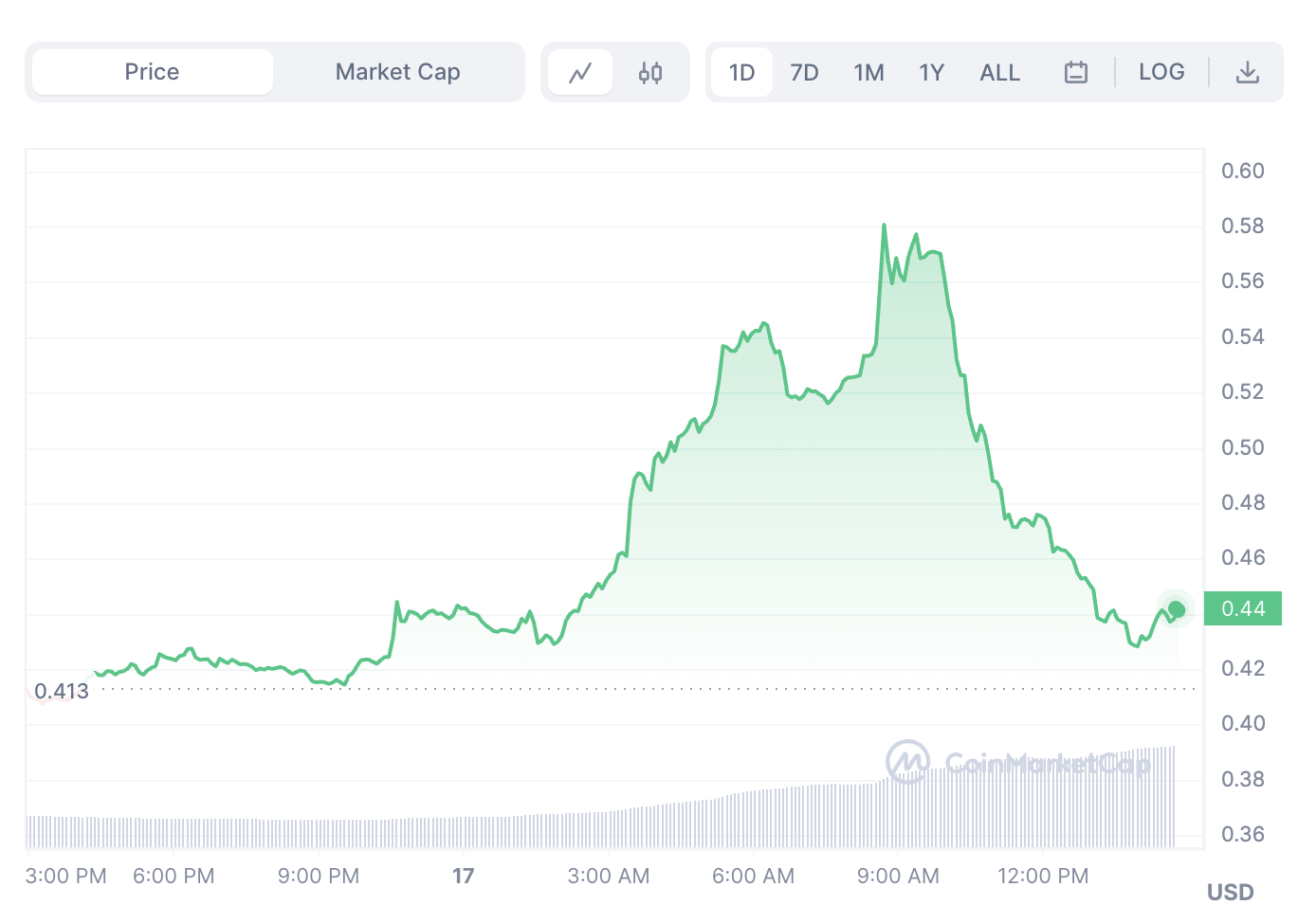 This price is a reflection of the increase it has experienced in the last 24 hours. Its trading volume has also seen a significant surge of approximately 340% as over $555m worth of 1INCH tokens have been traded across various exchanges. These statistics serve as a testament to the notable growth that 1inch Network has achieved in the previous quarter. It witnessed impressive user base growth in Q2 2023, with a notable 38% increase compared to the previous quarter. The platform's user count rose from 3.56 million in Q1 to 4.94 million in Q2. Also, the daily active users on 1inch Network demonstrated a consistent upward trend, reaching its highest point of approximately 65,000 in June 2023.
1inch Network's rapid increase in its user base is attracting the attention of numerous traders who are actively speculating on its price. CoinMarketCap, for instance, has reported an impressive 311,859 watchlists dedicated to 1inch. This implies a keen interest in 1INCH token performance in the coming years.
To offer some insight into the 1INCH crypto price prediction for 2023, 2025, and all the way to 2030, let's explore what some analysts think.
1inch price prediction
Cryptonewsz has a positive outlook for its 1INCH price prediction in 2023, where the minimum price is projected to be $0.49, and the maximum price $1.18. As we move forward, the forecast predicts gradual increases in both prices. In 2024, the 1INCH minimum price is estimated to be $1.05, while its maximum price is expected to reach $1.51. These values continue to rise in the following years, with the 1INCH price reaching $5.92 by 2030 according to its forecast.
DigitalCoinPrice is also bullish on 1INCH. In 2023, it predicts the average price to be around $0.93, with a minimum price of $0.40 and a maximum price of $0.97. Progressing to 2024, the 1INCH price is projected to increase to $1.08, with a range of $0.95 to $1.14. The trend of upward growth continues in the subsequent years, with the average price reaching $1.54 in 2025, $1.92 in 2026. Its 1NCH price prediction for 2030 is $4.51.
PricePrediction's forecast suggests a positive trend for the 1INCH coin price prediction. For 2023, the 1INCH price is estimated to be around $0.42, with a minimum price of $0.41 and a maximum price of $0.46. By 2024, the average price is projected to increase to $0.62, with a range of $0.60 to $0.72. Its 1NCH price prediction for 2025 is $0.93, with the value reaching $1.35 in 2026. As we approach 2030, the average price is expected to be around $6.24, with a minimum price of $6.08 and a maximum price of $7.01.
BitcoinWisdom projects that 1INCH price will be around $0.48, with a minimum price of $0.41 and a maximum price of $0.51 this year. By 2024, its average price is projected to increase to $0.75, with a range of $0.68 to $0.86. The subsequent years show a gradual rise in the average price, reaching $1.10 in 2025, $1.44 in 2026, and so on. By 2030, the 1INCH average price is expected to be approximately $2.81, with a minimum price of $2.74 and a maximum price of $2.91.
FAQS
Does 1INCH have a future?
The increased market demand, user base, technological advancements, and strategic partnerships could contribute to an upward trajectory of 1INCH's value. Although it ticks most of the boxes for a good investment, it is crucial to acknowledge that external elements have the potential to exert substantial influence on the price. Therefore, conducting thorough research and implementing effective risk management strategies are essential.
How high can 1INCH go?
Most analysts offer a positive outlook for 1INCH over the years. While short-term fluctuations in either direction are inevitable, 1INCH has the potential to perform well on a long-term basis. It is however important to consider other factors and manage risks as these predictions are only based on assumptions and historical trends.
Can 1INCH hit $100?
For 1INCH to reach $100 from its current trading price, it would have to increase by 22,762% which seems unlikely. The highest price being forecast at present is $8 by 2032. Always remember to do your own research first however.
Disclaimer: The information provided in this article is for informational and educational purposes only and should not be construed as financial advice. Coin News and its authors are not financial advisors or experts. We recommend that you consult a professional financial advisor or conduct thorough research before making any investment decisions. Cryptocurrency investments carry a high degree of risk, and you should only invest an amount you are willing to lose. The opinions expressed in this article are those of the author and do not necessarily reflect the views of Coin News or its affiliates.