It seems like $Hex is never out of the news these days. Since it began four years ago, it has faced questions over whether or not it is a scam, while in the past week, the price of HEX has increased by 37.4%. So how does this affect the latest Hex price prediction? Let's find out.
What is HEX crypto?
Consider this scenario: You find yourself with some extra cash that you want to set aside and grow through interest over a specific timeframe. Instead of opting for the conventional route of depositing your money in a savings account in a regular bank, you choose to explore a unique blockchain-based 'bank' known as HEX.
This bank allows you to deposit money into a 'Time Deposit' account – also referred to as Certificate of Deposit (CDs) – where you earn more the longer you keep your money.
You decide to deposit $1,000 into HEX for one year. By doing so, you receive special shares called 'Hexagons' which represent your ownership in the HEX Vault. These Hexagons entitle you to a share of the interest generated by the bank.
Over the course of the year, your earned interest is calculated based on a set formula. Let's say the annual interest rate is 20%. This means your $1,000 deposit would accrue $200 in interest.
Now, here's where HEX introduces an intriguing aspect. If you choose to withdraw your money before the one-year period elapses, there's a penalty involved. Let's assume the penalty is 10% of your initial deposit, so you would face a $100 penalty if you decide to withdraw early.
However, the penalty you pay isn't just taken by HEX. Instead, it is shared among the other depositors who have committed to keeping their funds in the HEX for the entire agreed duration. This distribution of penalties provides an incentive for participants to stay committed to their investments and receive a portion of the penalties paid by early withdrawers.
Here's how HEX describes itself on its website: "Banks profit on poor customer service, early withdrawal fees and auto-renewing you at worse rates. They pay pitifully low interest. New money is printed all the time, making yours less valuable. HEX monetizes the time value of money in a totally new and better way. It takes the concept of CDs to the next level: HEX replaces inefficient currencies, banks and payment networks with verifiably secure peer-to-peer technology.
"In HEX, you're the bank."
Is HEX crypto a scam or is it safe to invest in?
The high-yield investment space often attracts scrutiny and allegations of scams, and HEX is no exception.
It is hardly surprising as HEX makes bold claims, boasting an astonishing annual percentage yield (APY) of 38-40%. When compared with the average APY offered by traditional banks for certificates of deposit (CDs), the difference is worlds apart – about 24 times more.
These promises have been ingrained in the fabric of HEX since its early days, as the team has persistently captivated investors with alluring prospects of extraordinary returns.
As of 2019 to 2020, HEX's website read: "HEX IS THE OPPORTUNITY OF A LIFETIME. DESIGNED TO DO OVER 10,000X RETURNS IN UNDER 2.5 YEARS."
Concerns about the legitimacy of HEX are further fuelled by the collapses of other high-yield crypto staking and lending platforms, such as Celsius Network, Voyager, and Anchor Protocol.
Considering that Celsius Network provided users with an annual yield of around 18.6% and Anchor Protocol also offered close to 20% APY, investors are even more on the edge with HEX's staggering returns which almost doubles these.
Allegations of a scam have been heightened by the dubious background of Hex coin founder Richard Heart, whose real name is Richard James Schueler.
Before reinventing himself as Heart, Richard James Scheler was found guilty of violating Washington State's anti-spam laws in 2002. He was accused of sending unsolicited commercial emails containing deceptive information often in the form of a forged return email address or misleading subject line.
Bennett Haselton, the webmaster who initiated the civil lawsuit against Schueler, later told Panama-Guide that Schueler had confessed over the phone to being the individual behind the spam and profiting significantly from it. Haselton stated that Schueler had warned him that if he pursued legal action and emerged victorious, he would employ various malicious tactics to seek retribution.
Amidst these allegations, Richard Heart and Hex continued to gain attention for his controversial social media presence, where he often makes grandiose claims, perhaps to entice individuals to participate in HEX. These include flaunting his alleged possession of a $10million collection of watches and a fleet of cars worth $3m.
The HEX founder is also known to present himself in high-end designer outfits and frequently flexes them on Twitter – a rare behaviour for founders who typically maintain a more modest and reserved approach.
Another notable controversy surrounding HEX coin pertains to the allocation of penalty fees paid by early withdrawers. It is alleged that half of the fee goes to Richard Heart. This information is claimed to be subtly masked in the coin's technical paper, referencing it as funds allocated to the 'Origin Address'.
Some other red flags observed include the absence of a roadmap, an excessive focus on the promise of high returns, and a lack of clear use cases for HEX beyond price speculation and staking.
Based on this information, HEX can be regarded as a high-risk platform and investment choice. Traders are therefore advised to exercise caution, carry out further research and incorporate proper risk management strategies.
HEX price history
HEX was launched to the market in 2019 via a unique distribution mechanism called the 'Adoption Amplifier' (AA) lobby. During the AA lobby phase, participants could send Ethereum (ETH) to a smart contract and receive HEX tokens in return. The amount of HEX received was determined by the total ETH sent by all participants and the amount of ETH contributed individually.
After the initial AA lobby phase, HEX tokens became tradable on various cryptocurrency exchanges.
HEX coin started trading at around $0.00001455 in December 2019 and remained relatively stable until January 2020.
From January to February 2020, there was a significant increase in price, reaching a high of $0.00050277. The trading volume also saw a substantial rise during this period.
However, after the peak in February 2020, the price experienced a significant decline, dropping to $0.00005382 by the end of March 2020. This decline could be attributed to the market crash caused by the COVID-19 pandemic.
From April to June 2020, HEX price gradually recovered, reaching $0.00339125 by the end of June. This period marked a steady increase in both price and market capitalisation.
Throughout the second half of 2020 and the beginning of 2021, HEX price experienced significant volatility, with both upward and downward movements. The price reached its all-time high of $0.55 in November 2021.
Since then, HEX price trended downwards, reaching $0.15558764 by the end of July 2022.
From August 2022, HEX coin continued to experience volatility, but the overall trend was mostly downward. It closed the year at $0.018.
HEX coin kicked off the year 2023 on a bright note, reaching $0.1 in late February. A retracement however followed swiftly and by May, it hit $0.06. It has continued to correct slightly and by mid-June, HEX was trading around $0.009.
Riding the wave of the controversies and scam allegations, HEX has continued to surge in popularity. On the charts, it hasn't performed badly either as CoinMarketCap shows a remarkable return of over 5,000% from its AA lobby phase price.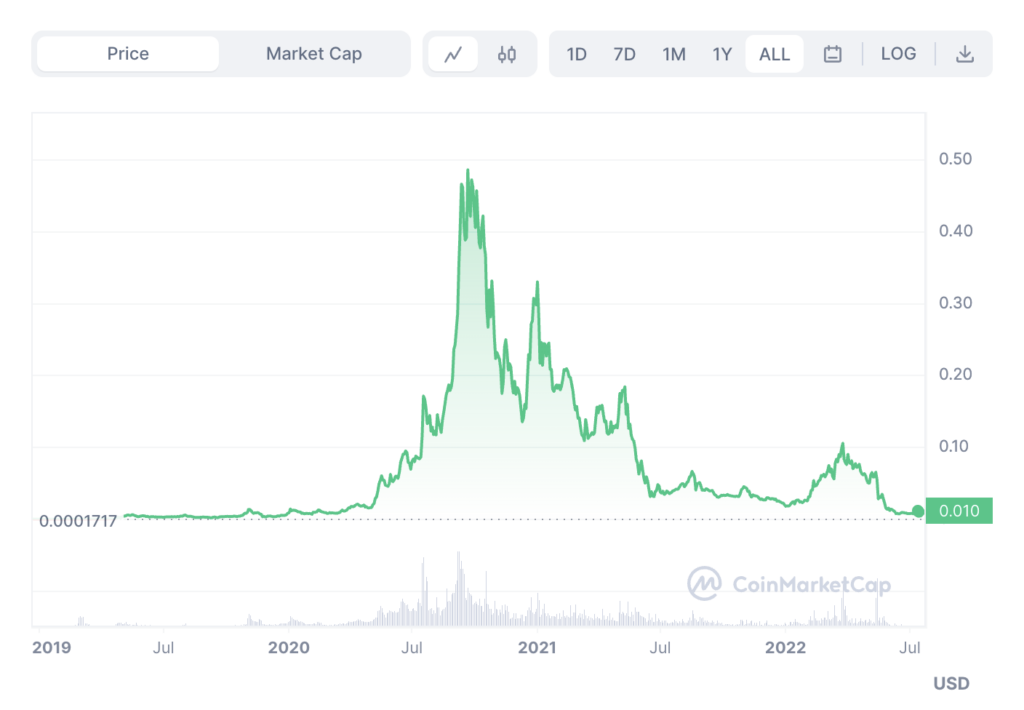 Currently, HEX coin is trading at $0.01 – up 11.28% in the past day – amid increased interest that is evident in its 24-hour trading volume and watchlists.
Looking to the future, what is the HEX price prediction for 2025 and beyond?
Let's find out!
HEX price prediction
According to a Hex price prediction for 2023 from DigitalCoinPrice, the average price of HEX is projected to be around $0.0205. It is expected to gradually increase over the years. By 2025, the HEX price is estimated to reach approximately $0.0333, indicating a positive upward trend.
Three years later, the HEX crypto price is projected to be around $0.0510, while in 2030, it is expected to be approximately $0.11. These figures suggest a steady rise in the average price of HEX over time.
PricePrediction is equally bullish on HEX. For 2023, the average price of HEX is expected to hover around $0.011. A gradual increase which will see HEX price reach $0.023 by 2025 is projected.
As we move further into the future, the HEX price is anticipated to continue its ascent. In 2028, the projected average price is around $0.071, while in 2030, it is expected to reach approximately $0.15.
Techopedia has a more optimistic outlook for its HEX crypto price prediction. For this year, it expects HEX price to hover around $0.01. Two years later by 2025, a price of $0.04 is envisioned.
HEX's price is projected to continue its upward trajectory, reaching $0.21 by 2030.
For the rest of the 2023, Bitnation expects the HEX crypto price to trade around $0.01538. Its projection over the years is similarly bullish. By 2025, the HEX coin price is anticipated to reach around $0.035886, while its Hex price prediction for 2030 is $0.087153.
FAQs
Will HEX crypto reach $1?
A price of $1 is rather too optimistic, as is evidenced in the explored forecasts. It is however difficult to rule out such possibilities in this highly volatile and sentiment-driven market. Investors are advised to manage expectations reasonably well.
Is HEX a good investment?
Considering the implosion of numerous high-yield platforms, it wouldn't be out of place to term HEX as a high risk investment. However, it has potential for growth considering its trajectory over the years. It is advisable to consider other important factors and conduct thorough research before investing.
How high can HEX go?
Of all considered analysts, Techopedia is the most bullish, projecting a price of $0.21 by 2030. The projections are however based on historical data and various assumptions and is not a substitute for a thorough research when investing.
Disclaimer: The information provided in this article is for informational and educational purposes only and should not be construed as financial advice. Coin News and its authors are not financial advisors or experts. We recommend that you consult a professional financial advisor or conduct thorough research before making any investment decisions. Cryptocurrency investments carry a high degree of risk, and you should only invest an amount you are willing to lose. The opinions expressed in this article are those of the author and do not necessarily reflect the views of Coin News or its affiliates.