The Solana network and its SOL token have had an interesting few months following the collapse of FTX last November when SOL lost half its value in a day as the second-largest holding of its sister company, Alameda Research.
It has since tried to distance itself from the controversy, and by the end of 2022, it got a boost from Ethereum founder Vitalik Buterin who tweeted about Solana's "bright future" and the community getting a "fair chance to thrive".
Just recently, Solana launched its own Web3 mobile phone in April. And now, in its latest development, the Solana Foundation has become the first Layer-1 blockchain to integrate AI with a ChatGPT plugin created by Solana Labs.
So what does this mean for an up-to-date Solana price prediction? Let's take a look.
What is Solana?
Solana is a high-performance blockchain platform that aims to provide fast, secure, and scalable solutions for decentralised applications (dApps) and cryptocurrencies. It was designed to address the limitations and scalability issues commonly associated with traditional blockchain networks.
Founded in 2017 by former Dropbox and Qualcomm employee Anatoly Yakovenko, Solana was among the first to utilise a proof-of-history (PoH) algorithm, as opposed to the more frequently used proof-of-work (PoW) or proof-of-stake (PoS).
In addition to PoH, Solana utilises a variant of the PoS consensus algorithm called Tower BFT (Byzantine Fault Tolerance). This consensus algorithm enables the network to achieve high throughput and low latency by utilising a dynamic, decentralised set of validators to agree on the state of the blockchain.
Solana's native token, SOL, plays a crucial role in the network. It is used for transaction fees, staking, and participating in the consensus process. Furthermore, SOL token holders can participate in the governance of the Solana ecosystem, allowing them to propose and vote on protocol upgrades and improvements.
Solana is known for its frequent outages, with its most recent one on 25 February. In spite of this, SOL happens to be the 10th-biggest crypto in the entire market.
SOL price history
When SOL first hit the market in mid 2020, it began trading at $0.5741. It stayed roughly around this mark for the rest of the year before gaining traction in the 2021 bull runs, peaking at $56.09 on 19 May, before crashing five days later to $24.50.
A few months later on 15 August, the price of SOL experienced a low of $44.15, which was soon followed by a surge of 21% to reach a high of $53.54 the following day. On 21 August, the coin reached a peak of $78.7 before surpassing the $80 threshold on 28 August, leaping to a high of $88.85, according to CoinMarketCap.
On 10 September, SOL achieved a new pinnacle, reaching $187.61, which was soon surpassed by another record of $202.32 on 25 October, and ultimately reaching an all-time high of $260.06 on 6 November 2021.
The end of the year proved to be challenging for crypto in general and on 14 December, SOL had witnessed a loss of approximately 37% in value, with the coin being valued at $161.36.
In 2022, high volatility saw the price of SOL stoop to $29.7 on 15 June. The price eventually plummeted to a mere $13.99 on 9 November. On 11 November, following the announcement of FTX's bankruptcy, it was priced at $16.34.
So far this year, SOL has managed to climb back up the graph a bit. Having started 2023 at $9.98, it reached a high of $26.14 by 29 January. It slipped to $20.13 on 10 February. Following the collapse of Silverbank on 9 March, SOL fell to $17.31. By 17 April, SOL was trading at $25.36.
At the time of writing on 26 May 2023, SOL is currently moving at $19.468, up 1.13% in the past 24 hours. According to CoinMarketCap, it has a live market cap of $7,688,707,739 with a circulating supply of 396,203,229 SOL coins.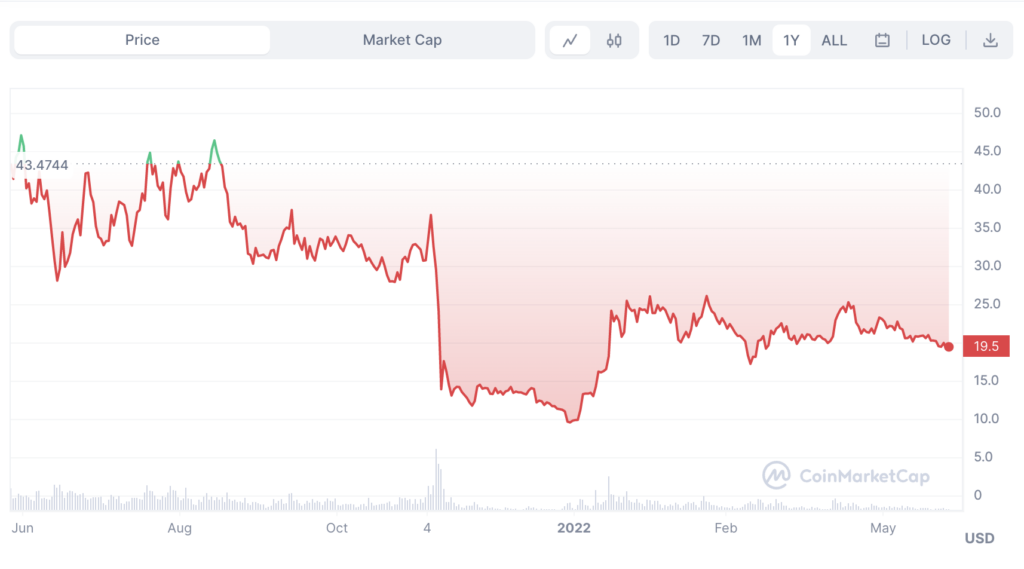 Solana price prediction
So after all that, what is the latest SOL coin price predictions doing the rounds as of 26 May 2023?
Well, WalletInvestor is bearish and believes that SOL is a "bad long-term (1-year) investment". They say that the price of Solana may drop from its current price of $19.468 to $2.690 – a change of minus 86.183%.
A forecast from CoinCodex is also bearish with with seven technical analysis indicators showing bullish signals, and 21 signalling bearish signals. They add: "This could be an indication that Solana is a bad buy in 2023."
According to a Solana price prediction for 2023 from DigitalCoinPrice, the average price will be $41.35 this year. Their current sentiment is "bearish, while the Fear & Greed Index is reading 22.54, which means extreme fear". Its Solana price prediction for 2030 sees the value of SOL at $193.26 before going to $276.88 the year after.
A one-year forecast from Gov Capital predicts the price of SOL will be $88.45. Its Solana price prediction for 2025 believes SOL will be worth $102.28 on 26 May of that year.
Remember when looking for the latest SOL price predictions, that past performance is no guarantee of future results. The crypto market is very volatile – always do your own research before buying into any coin or token.
FAQs
Can Solana reach $1,000?
From its current price of $19.468 at the time of writing on 26 May, SOL would have to increase by 5,036% to reach $1,000. It's possible, but probably unlikely.
What will Solana be worth in 2025?
According to a SOL price prediction from Gov Capital, SOL will be worth $102.8 in 2025, while DigitalCoinPrice reckons it will be worth an average $70.21 that year. Always remember to do your research.