The price of Bitcoin is moving past the $28,000 mark following the latest US consumer price index (CPI) showing lower than expected inflation in April.
At the time of writing, the BTC price was trading at $28,225.82 – up 2.84% in the past 24 hours. More than $10billion has been added to its market cap dominance – an increase of more than 2%.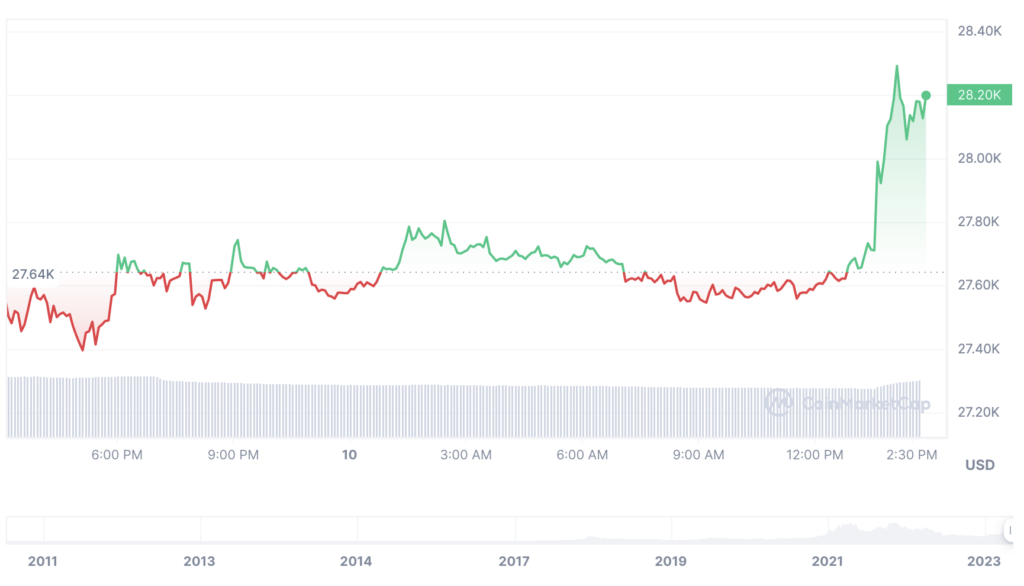 According to the US Bureau of Labor Statistics report today, annual inflation fell to 4.9% in April, compared with analyst estimates of 5%. Month-on-month inflation moved 0.4% higher than the 0.1% increase noted in March.
The Consumer Price Index (CPI) measures the change in prices paid by consumers for goods and services. The report added: "The all items index increased 4.9 percent for the 12 months ending April; this was the smallest 12-month increase since the period ending April 2021.
"The all items less food and energy index rose 5.5 percent over the last 12 months. The energy index decreased 5.1 percent for the 12 months ending April, and the food index increased 7.7 percent over the last year."
June is the month set for the next Fed policy meeting, meaning another CPI inflation report can be expected in a few weeks before the Fed reveals its next rate move. Nonetheless, economists reckon this may be the last increase for some time, especially after today's CPI report.
Bitcoin and the day's biggest risers
In addition, the price of Ethereum (ETH) has risen by 2.3% to $1,880.17, with its market cap up 2.27% to $226bn.
The day's other big risers are Kava (KAVA) at 11.12%, Terra Classic (LUNC) at 8.37%, Arbitrum (ARB) at 7.59%, Render Token (RNDR) at 7.53% and Fantom (FTM) at 7.05%.
The global crypto market cap currently stands at $1.16trn – a 1.91% increase over the last day.
The day's biggest losers so far are Stacks (STX), down 5.26% and Pepe (PEPE) at 4.22%. Bitcoin SV (BSV), which had been rallying, is now down 4.21%.