Crypto news site Cointelegraph has issued an apology after a tweet early today alleged that the U.S. Securities and Exchange Commission had approved the iShares Bitcoin ETF filed by asset manager BlackRock.
The tweet has now been deleted following an official denial by BlackRock regarding the report that the SEC had approved the much-anticipated crypto investment product application.
BlackRock later stated to Reuters that: "The iShares Bitcoin ETP application is still under review by the SEC."

The online publication has now come forward to say: "We apologize for a tweet that led to the dissemination of inaccurate information regarding the Blackrock Bitcoin ETF. An internal investigation is currently underway. We are committed to transparency and will share the findings of the investigation with the public once it is concluded within 3 hours."
At the time of writing, the price of Bitcoin is trading at $28,214.98, up 5% in the past day, after spiking to $29,388 when the error first broke. According to data from CoinGlass, approximately $71.36m in BTC has been liquidated in the past four hours.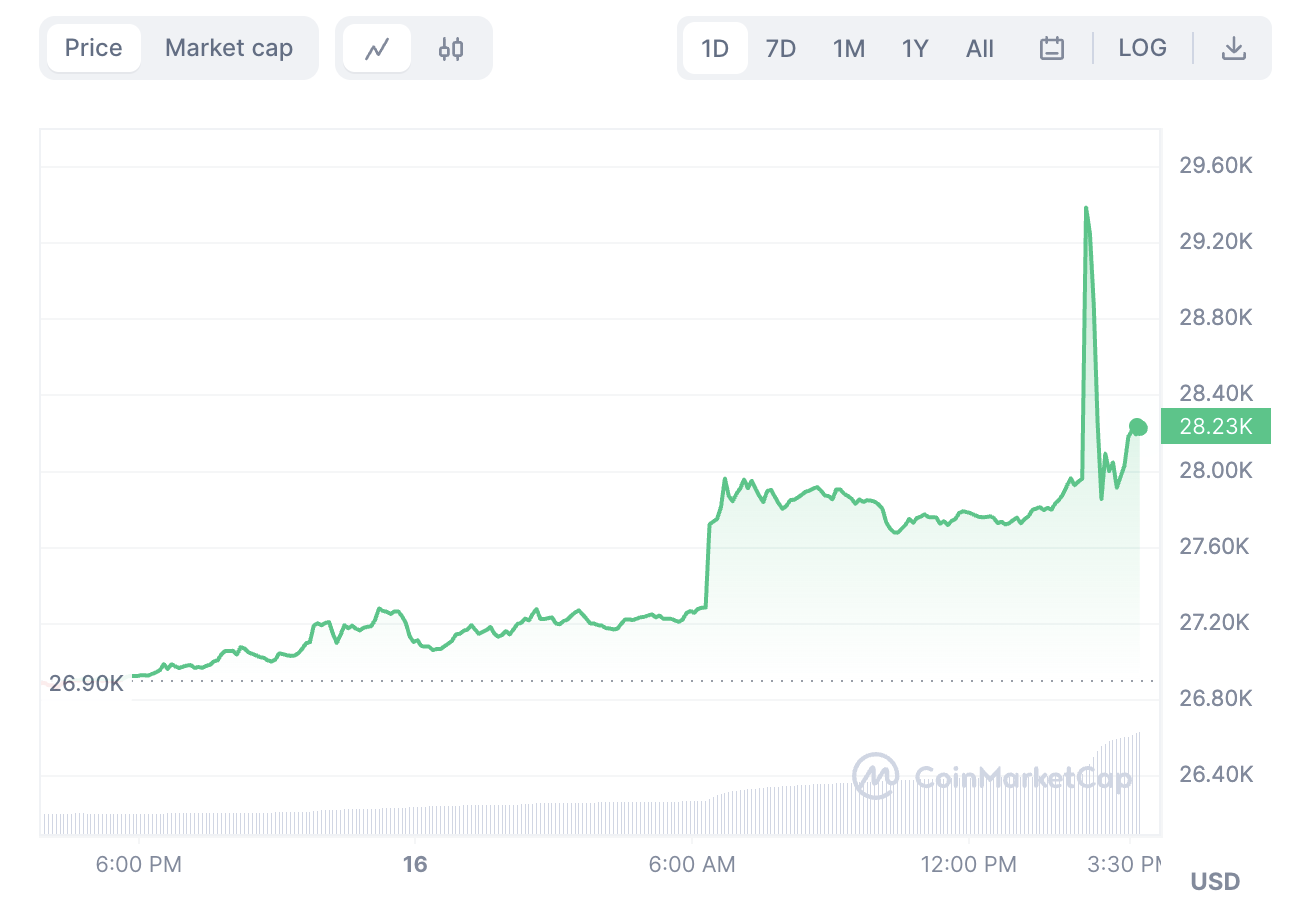 Earlier, Bloomberg crypto expert James Seyffart had tweeted that the report was "fake news".
On X, he posted: "I believe this to be fake news. While this would be positive for the things we've been saying. I can't find anything that would confirm this at the moment. #Bitcoin"
Meanwhile, Eric Balchunas, senior ETF Analyst for Bloomberg added: "While I expect to wake up one day in next couple months to a headline just like this, this seems a bit ahead of schedule. Trying to confirm source now. Stay tuned."
Crypto investors have eagerly been awaiting news on the BlackRock product that will, when approved, create far-reaching ripples in the market.
According to Joseph Edwards, head of research at London crypto firm Enigma Securities: "The move does show how monomaniacally obsessed the bitcoin market is with the coming spot ETFs.
"It has been almost the sole catalyst moving Bitcoin specifically for at least six months as opposed to broader crypto markets."