For the first time in crypto history, almost 70% of all Bitcoin has been held onto over the long-term, according to data from Glassnode. Over 13 million BTC, worth roughly $380billion as of 8 August, has remained dormant for at least one year. 
The data shows long-term investors have held onto their Bitcoin supplies throughout the bear market and increased their share in the market.
It is the first time since its founding back in 2009 that this much BTC has been held for over a year.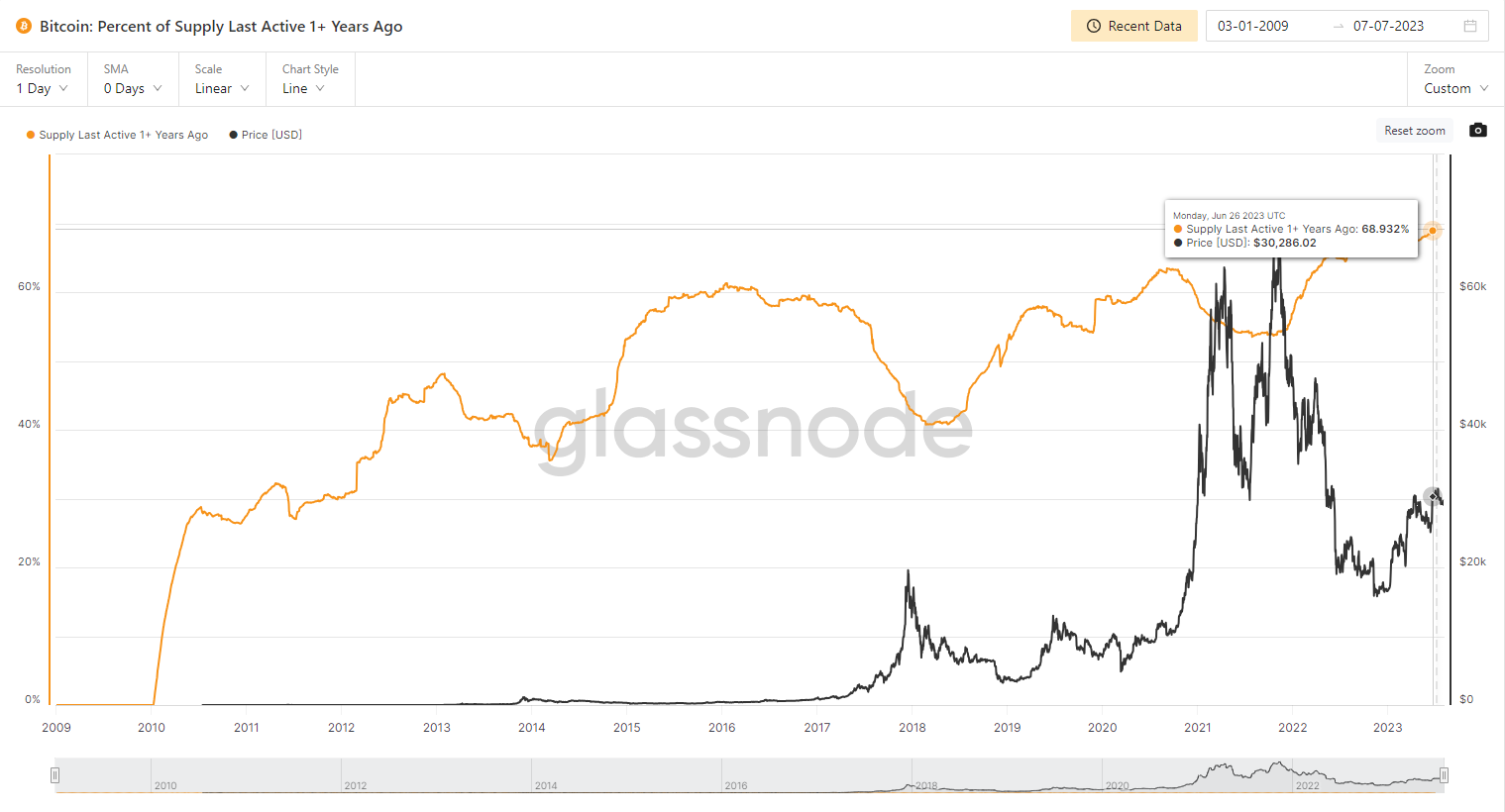 Long-term investors held similar amounts during 2016 and before the bull market in 2021. Roughly 60% of all BTC had been dormant during these two periods.
But there was a large sell-off of these holdings as Bitcoin raced to its all-time high towards the end of 2021. Dormant BTC fell to 53%.
A similar dip was experienced during the bull market of 2017. The amount of dormant BTC crashed from around 57% in May 2017 to 42% in March 2018.
Longer-term Bitcoin HODLers
When looking at even longer term holders, there has also been an increase. A record 56% of Bitcoin has been inactive for more than two years and 40% has been dormant for at least three years.
"This trend, indicative of the prevalent accumulation strategy prevalent amongst long-term holders, showcases a robust belief in Bitcoin's long-term value, even amidst the notorious downturns that have characterized the cryptocurrency market over the past one year," a Bitfinex told CoinDesk.
Short-term on-chain movements
Focusing on the shorter term, the crypto analytics platform Santiment has recently noted activity in whale holdings and addresses. The firm found BTC was being gradually accumulated.
"After a month of whales mildly lessening their Bitcoin bags, we've seen some swapping of their stablecoins for more BTC. If this trend continues, we could see a quick rebound of prices back to $30,000 and beyond," Santiment tweeted.
It also found a spike in addresses interacting with BTC.
The firm said: "Bitcoin's address activity has surged to its highest level in 3.5 months in August. This utility increase, combined with major loss transactions and negative sentiment, is a strong sign that a short-term (at minimum) BTC price bounce is more probable."
Bitcoin's upcoming halving
The largest cryptocurrency is currently gearing up to its most anticipated event, halving. Bitcoin halvings take place every four years and reduce the reward size of mining new blocks by 50%.
BTC's mining rewards are set to halve in either April or May 2024, the exact date is currently unknown.
Halvings are usually accompanied with price movements from the cryptocurrency. After the past three halvings BTC has raced to new all-time highs in the following year or so.
BTC's current price
As of 8 August 2023, Bitcoin is trading at $29,300. It is up 0.84% in the past 24 hours and 1.40% in the previous seven days.
It is the largest cryptocurrency with its market cap of $569 billion. Bitcoin has seen a 24-hour trading volume of $13 billion. 
Currently, 19.45 million BTC are in circulation. Roughly only a third of this are in non-dormant wallets.
Mixed Bitcoin forecasts 
There have been bets from industry experts that Bitcoin will see strong growth in the near future. Adam Back, Blockstream CEO, recently came out saying BTC will reach a new all-time high of $100,000 before the halving date in 2024.
Samson Mow, Jan3 CEO, similarly said that a new BTC record price will be achieved before its halving.
On the other hand, bitcoin company NYDIG is pessimistic. It pointed towards the latest Litecoin halving that failed to see much price movement in its LTC cryptocurrency.