As the countdown gears towards the next bitcoin halving, bitcoin enthusiasts and traders continue to draw inferences and hypotheses for the next run based on the previous cycles in order to properly time the bottom and maximise profit.
One of the latest hypotheses gaining popularity is that put forward by pseudonymous trader and technical analyst, TechDev. He shared a setup on bitcoin's chart which he believed is reminiscent of a setup in 2020 just before the bull run that followed in 2021 which saw bitcoin's price soar above 68k.
"We've seen this monthly #Bitcoin setup before. At the start of the last impulse," he tweeted. 
The chart below shows bitcoin's price movement from September 2019 to date. It also suggests that Bitcoin has a support zone around $25,000, which is comparable to the support zone observed in 2020 at approximately $9,500 before experiencing a breakout towards new highs.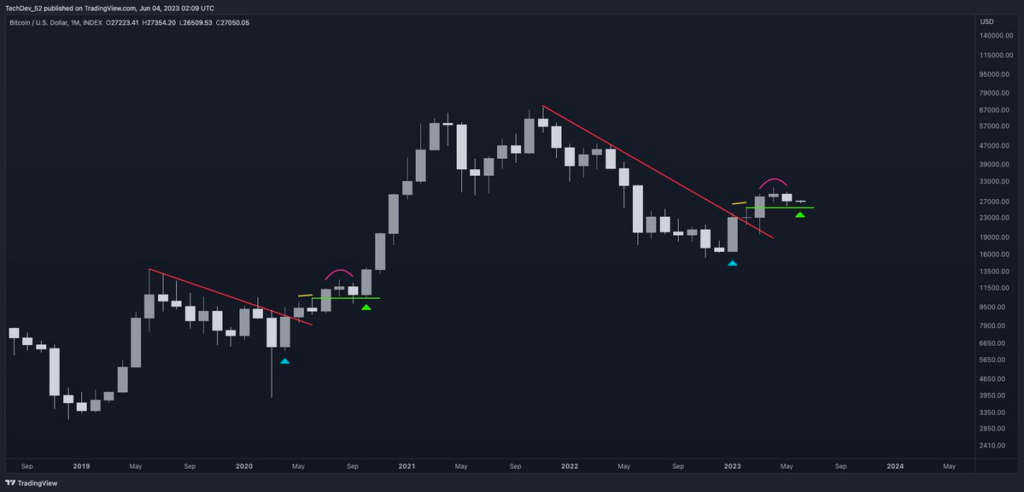 Judging from the setup and the past trend, TechDev expects that Bitcoin could reach $80,000 as indicated in a follow-up chart which he shared on his Twitter page.
The comment section of the post showed that many traders shared similar sentiments.
TechDev however warned that longing bitcoin still remains risky, despite the bullish stance suggested by the breach of the support levels in the inverse chart shown above.
This makes sense as sole reliance on past setups in bitcoin price prediction is not foolproof. Cryptocurrency markets are influenced by a variety of factors, including fundamental news, market sentiment, regulatory developments, and macroeconomic conditions. These factors can introduce significant volatility and make it challenging to solely rely on historical patterns for accurate predictions.
Price update
Bitcoin price has dipped by about 4% following the lawsuit by SEC against Binance. At the time of writing, $BTC was trading at $25,780.
Other top cryptocurrencies including $BNB and $ETH have similarly plunged in reaction to the news on the 24-hour chart.
Disclaimer: The information provided in this article is for informational and educational purposes only and should not be construed as financial advice. Coin News and its authors are not financial advisors or experts. We recommend that you consult a professional financial advisor or conduct thorough research before making any investment decisions. Cryptocurrency investments carry a high degree of risk, and you should only invest an amount you are willing to lose. The opinions expressed in this article are those of the author and do not necessarily reflect the views of Coin News or its affiliates.