On-chain data shows that Bitcoin whales are buying more $BTC as the market continues recovering after losing a major support.
Market intelligence platform Santiment revealed that wallets holding between 1k and 10k Bitcoin have accumulated 131.6k Bitcoin ($3.5billion) more in total since the first week of April. This represents a seven-month high for this metric.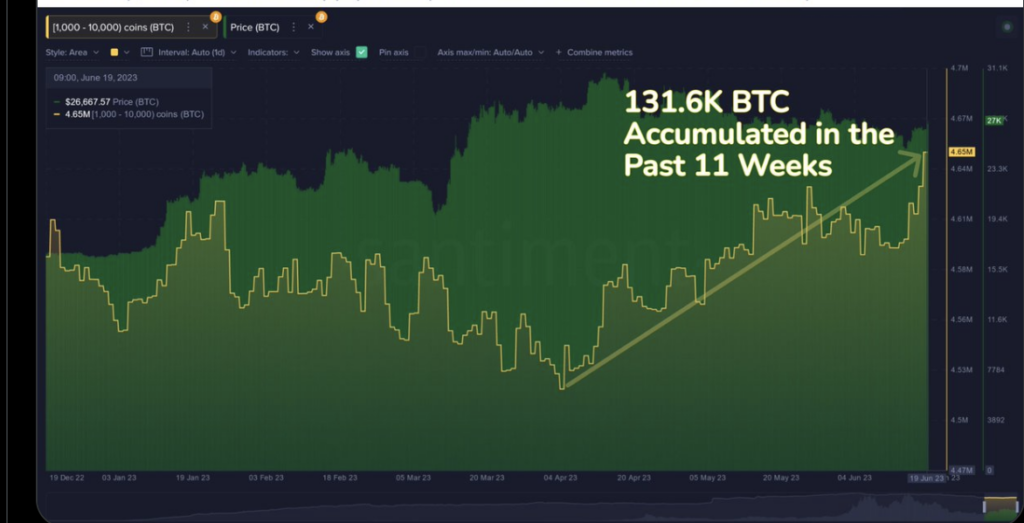 As of 6 April, wallets holding 1k – 10k bitcoin cumulatively held 4.52 million Bitcoins. This figure has steadily grown over time, and presently, wallets in this category collectively hold approximately 4.62 million Bitcoins.
The insight serves as further evidence pointing to an ongoing trend of substantial purchases by Bitcoin whales. Santiment reported earlier this month that Bitcoin whales were buying an average of $26million worth of Bitcoins daily. The surge in buying activity was attributed to a 10 per cent decrease in the price of Bitcoin, which these mega investors aimed to capitalise on.
"As #altcoin madness has ensued, there quietly is a #bullish divergence between #Bitcoin's accumulating whales and falling price. With whale holdings moving up by ~1K $BTC per day while prices fall, there is reason to believe a strong rebound can occur," say Santiment.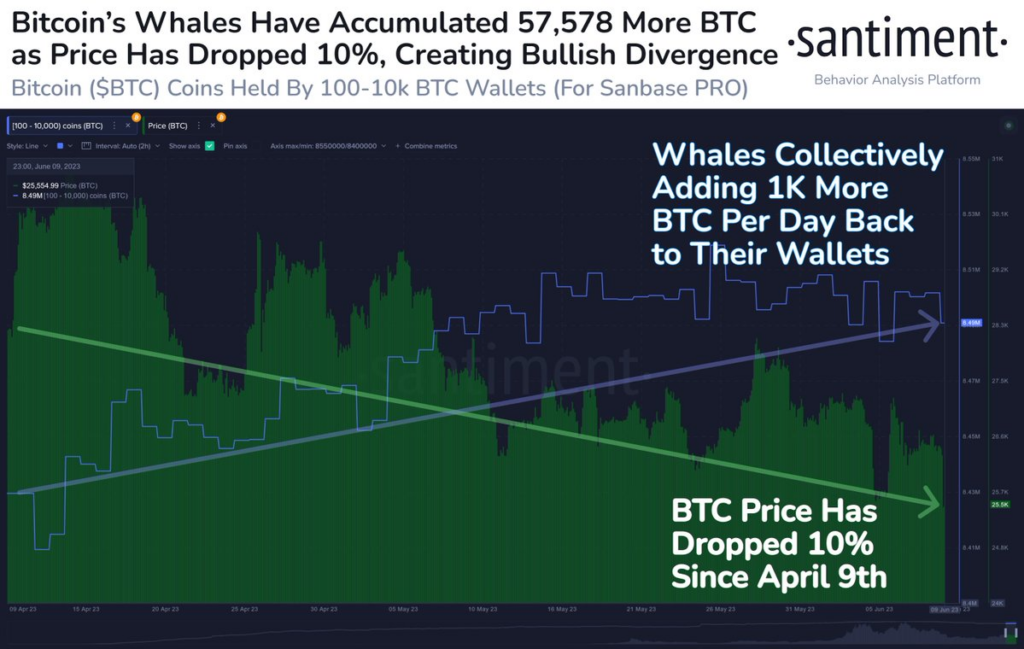 Market sentiments shifting
After a turbulent week marked by SEC lawsuits and the FOMC meeting, Bitcoin experienced a significant drop below $25,000 – a level not seen in three months. Prominent altcoins like Ether, Solana, and Polygon also suffered substantial price declines, causing a wave of panic throughout the crypto market.
Fortunately, the industry has found some relief in the past few days. The world's largest asset management company, BlackRock filed for a spot bitcoin ETF. If approved, it will be the first spot Bitcoin ETF to receive SEC approval.
It is widely regarded as a landmark move and a potential major win for the industry as it will provide a framework for individuals to gain exposure to bitcoin through a regulated and reputable institution.
Yesterday, speculation arose about a potential acquisition of Grayscale by Fidelity Investments. Reports also suggested that the asset management company was also preparing to apply for a bitcoin ETF.
Bitcoin's price has reacted to the positive news lately. Earlier today, it traded above $27k momentarily before declining to $26,778 – its price at the time of writing. It is currently up by 2.5% in the last seven days and 1.47% up in the last 24 hours.