In the wake of SEC suing Binance, the latest $BTC market indicator on the Crypto Fear & Greed Index has dropped to 'Fear'.
The US securities market regulator has accused the world's largest crypto exchange of using billions in customer cash in a separate trading firm owned by Binance CEO, Changpeng Zhao.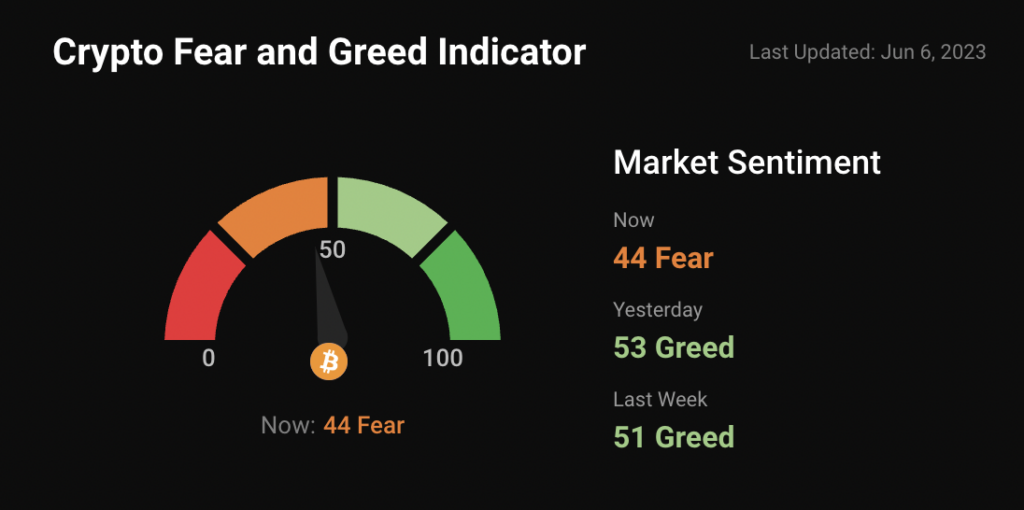 At the time of writing, market sentiment is now at '44 – Fear'. However, this could be a potential buying opportunity. A climate of Fear is said to drive many investors to panic sell their crypto holdings.
How the Fear & Greed index is calculated
The crypto market is driven by "the psychological currents running underneath it" according to the index. "So, how do we go about calculating the fear & greed in the air? The psychological backdrop of the crypto market finds its reflection in a number of mediums, from social media posts to Google Trends."
The price of Bitcoin is trading at $25,718.34, down 3.97% in the past 24 hours. Ethereum has fallen by 3.02%, while Binance's own BNB has dropped 7.82% to trade at $277.57.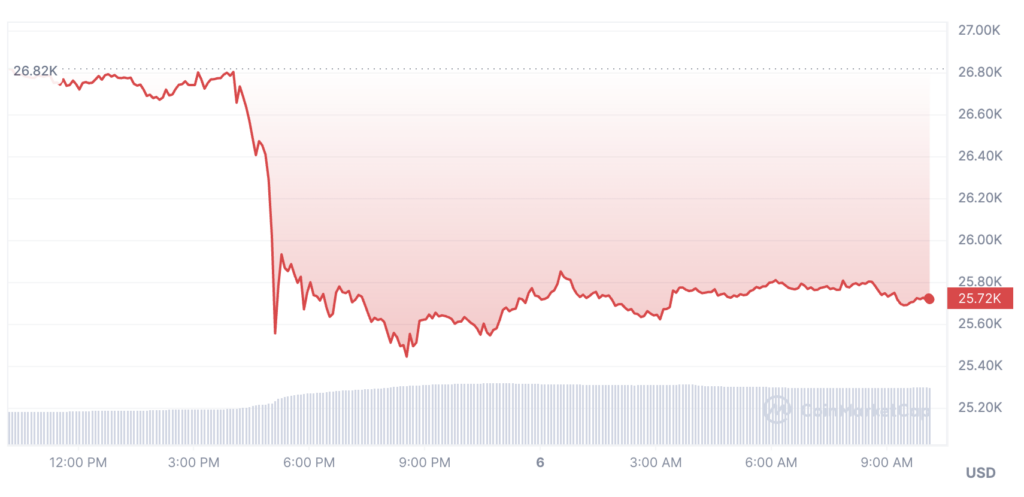 Meanwhile, the global crypto market has dropped by 3.83% to $1.09tn. The day's biggest loser is Pepe (PEPE), which has lost 16.61% in the past 24 hours.
The Sandbox (SAND) – which was named in the suit by the SEC along with other Metaverse tokens – is the second-biggest loser with a fall of 13.99% to $0.5168. Decentraland (MANA) has fallen by 10.54% to $0.4564.
In the complaint, the SEC has also singled out other tokens as securities. These include: Cardano (ADA) down 5.69% to $0.3532, Solana (SOL) down 7.04% to $20.07, Coti (COTI) down 8.88% to $0.0616, Polygon (MATIC) down 6.93% to $0.8281, Algorand (ALGO) down 8.76% to $0.1365, Filecoin network (FIL) down 8.12% to $4.24, Cosmos (ATOM) down 5.85% to $10.01, Axie infinity (AXS) down 9.45% to $6.60.