Defunct crypto exchange FTX has revealed assets totalling $7billion in a Monday court filing. This collection includes high-profile tokens which total about $1.81bn and 38 prime properties in the Bahamas valued at $200m.
Multiple reports have claimed that the exchange is now seeking approval to liquidate a significant portion of its digital assets. The aim is to sell these assets gradually, targeting up to $200m worth of crypto weekly in order to minimise market disruption.
The exchange, which was once one of the biggest in its league, filed for bankruptcy in November 2022. This happened after its then-CEO Sam Bankman-Fried resigned, followed by FTX Trading, along with over 130 companies listed as affiliates, filing for Chapter 11 bankruptcy protection in the US Bankruptcy Court for the District of Delaware.
FTX now owes its customers a lump sum debt of $8.7bn. As per the latest document, the company has secured $1.5bn in cash in addition to the $1.1bn it held on 11 November and also holds $3.4bn in crypto as valued at 31 August. In addition to this, it also has hundreds of millions of dollars in over 1,300 lesser known and potentially less liquid tokens such as $MAPS and $SRM.
The presentation of FTX's assets laid out that it holds about $1.16bn in Solana ($SOL) tokens, $560m in Bitcoin ($BTC), $192m in Ether ($ETH), along with other coins like $USDT and $XRP. The other debtor assets marshalled to date at latest available pricing includes $0.8bn of government recovered assets and $0.5bn of brokerage assets.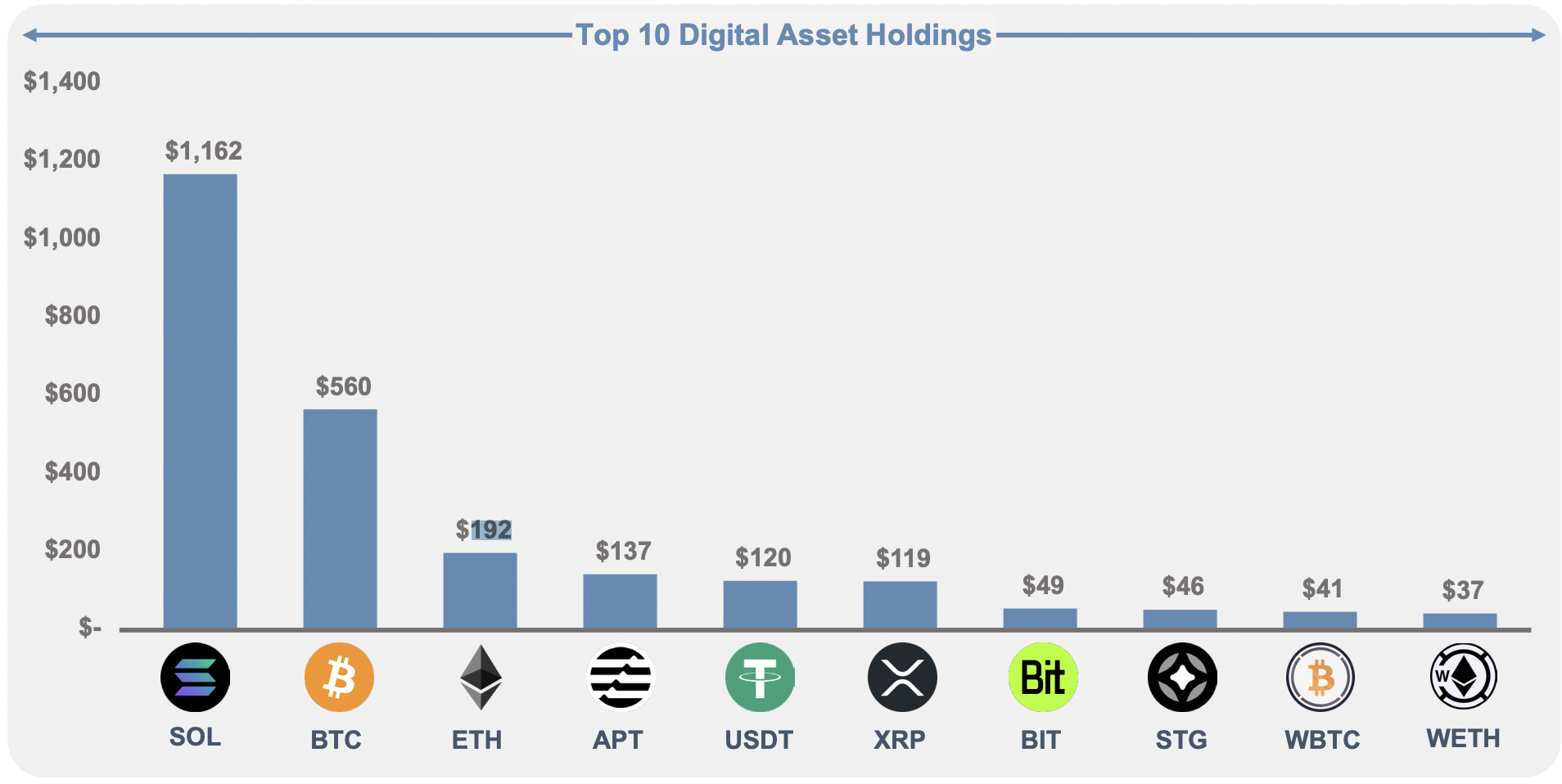 The amount of the company's potential incremental estate value, which includes venture investments, digital assets B, tokens receivable, counterclaims recoveries, potential avoidance/preference actions, FTX 2.0 and investments in subsidiaries, is yet to be decided.
There were also details of $2.2bn in cash, crypto, equity and real estate received by Bankman-Fried and other executives, including Nishad Singh, Zixiao 'Gary' Wang and Caroline Ellison, in the months leading up to FTX's bankruptcy. This stands important for the firm as according to the US law, such payments are allowed to be clawed back and added to the stock of assets that can be distributed to creditors.
Along with this, the filing reports of 38 condos, penthouses and other properties in the Bahamas which have an estimated value of around $200m. There has also been an attempt by the company's new management to reclaim funds made as donations to politicians and charitable organisations such as the Metropolitan Museum of Art in New York.
Last month, the exchange had asked the court to remove its Dubai unit from the ambit of bankruptcy proceedings in the US. As per the filings, FTX argued saying that its Dubai arm it was set up in February 2022 and didn't conduct any business prior to the bankruptcy filing in the United Arab Emirates (UAE).
FTX then revealed its intention to return funds to its creditors by liquidating its crypto holdings and has requested permission from the New York judge for the same. According to the bankrupt exchange, hedging $BTC and $ETH will allow the FTX debtors to "limit potential downside risk prior to the sale of such Bitcoin or Ether".