Customer data from FTX and BlockFi has been breached following a cyber attack on Kroll, a third-party agent responsible for managing creditor claims for bankrupt companies. Both FTX and BlockFi had filed for bankruptcy in November last year. Kroll were quick to reassure users that no sensitive data was leaked.
Background
The crypto industry is no stranger to hacks and breaches. However, this particular incident stands out because of its indirect nature. FTX, a bankrupt crypto exchange, and BlockFi, a crypto lender, had their customer data exposed not due to their own vulnerabilities but because of a breach at Kroll.
Who is Kroll?
Kroll is a third-party agent responsible for managing creditor claims for bankrupt companies. In this capacity, they held data related to FTX and BlockFi. While crypto account passwords and other sensitive data remained unaffected, the breach did expose some customer details. This has led to concerns about potential scams, with malicious actors possibly impersonating parties involved in the bankruptcy.
Impact on FTX and BlockFi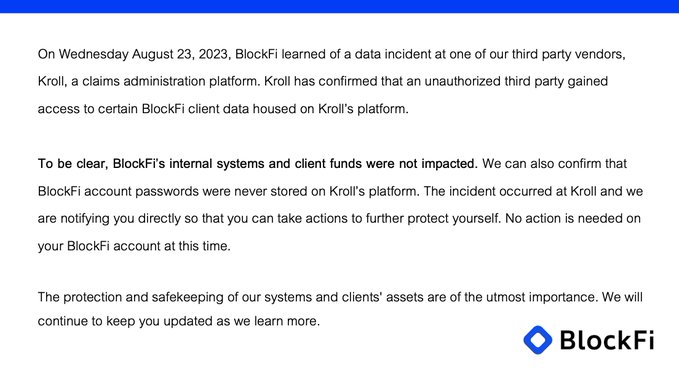 BlockFi via Twitter
Both FTX and BlockFi were quick to respond to the situation. BlockFi issued a statement via Twitter, confirming that an "unauthorised third party" had accessed some of their client data on Kroll's platform. FTX, on the other hand, stated that they were "closely monitoring the situation". Although the internal systems of both firms remained intact, there were fears that the exposed personal information could be misused by malicious actors.
The Immediate Aftermath
Customer Reactions and Concerns
Understandably, the breach has left many customers anxious. While their crypto account passwords were not affected, the exposure of personal data raises concerns about potential phishing attacks or scams.
Steps Taken by FTX and BlockFi
Both companies have been proactive in addressing the situation. They've warned their customers to be vigilant, especially against scammers trying to impersonate parties from the bankruptcy proceedings.
The Bigger Picture
Cybersecurity in the Crypto World
This incident serves as a stark reminder of the importance of cybersecurity in the crypto realm. With digital assets becoming more mainstream, ensuring the safety of customer data is paramount.
Kroll's Position in the Industry
Kroll isn't just involved with the crypto sector. They offer bankruptcy services to numerous companies and even promote a cybersecurity consultancy service. This breach might raise questions about their ability to safeguard sensitive data, especially given their proclaimed expertise in cybersecurity.
Implications for the Future
Protecting Personal Data
Companies, especially in the crypto sector, need to be more vigilant than ever. Collaborating with third-party agents adds another layer of vulnerability, and firms must ensure that these partners adhere to the highest security standards.
Lessons for Other Crypto Firms
This incident serves as a lesson for other crypto firms. It's essential to not only secure one's own systems but also to vet and monitor third-party agents rigorously.
Conclusion
The Kroll hack and its impact on FTX and BlockFi highlight the intricate web of connections in the crypto industry. While direct hacks are a known threat, indirect breaches through third-party agents pose a new challenge. As the crypto world continues to evolve, companies must remain vigilant, ensuring that every link in their chain is as secure as possible.
FAQs
What was the Kroll hack?
Kroll, a third-party agent managing creditor claims for bankrupt companies, was hacked, leading to the exposure of customer data from FTX and BlockFi.
Were crypto account passwords affected in the breach?
No, crypto account passwords and other sensitive data were not affected.
How have FTX and BlockFi responded to the situation?
Both companies have issued statements, with BlockFi confirming the breach and FTX stating they are monitoring the situation.
What are the implications for the crypto industry?
The incident underscores the importance of cybersecurity and the potential vulnerabilities introduced by third-party agents