Coinbase is teasing a big announcement on Twitter in a daily countdown, with signs pointing to PEPE listing.
It began dropping hints yesterday, when the crypto exchange tweeted the number "3".
And now, just in the past hour, it has added a simple "2".
In the meantime, crypto Twitter is ablaze with the hope that Coinbase is about to announce a Pepe (PEPE) listing for this Friday.
Notable crypto entrepreneur David Gokhshtein is hopeful and convinced.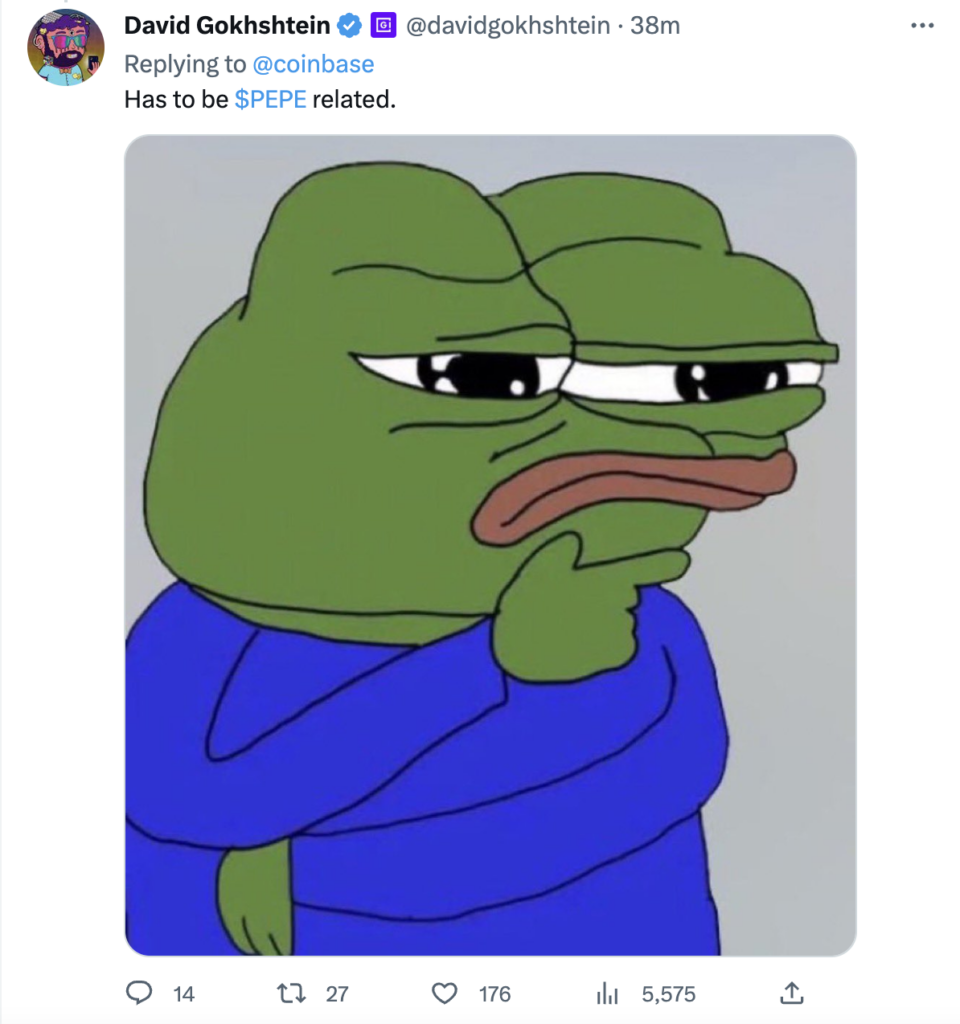 Another user tweeted: "So we all know @coinbase about to list #PEPE. Would you want to be buying before or after it lists #PEPEARMY #pepeislove."
Others are more skeptical: "There's no way this is $Pepe related… it's too perfect.. probably going to release another NFT lol."
While one had another theory: "Countdown till @coinbase announce they are leaving the US because @GaryGensler lacks perspicacity technological finance innovation."
Coinbase and Pepe
The potential move comes after last week's Coinbase newsletter debacle that infuriated the entire PEPE community.
An emailed newsletter sent to Coinbase customers on 10 May referred to the PEPE meme as a 'hate symbol' used by alt-right groups. It mentioned a 2016 Anti-Defamation League move to use the frog pic in its online hate symbol database.
Shortly after, 'DELETECOINBASE' began trending on Twitter, with many Coinbase customers threatening a boycott in favour of Gemini instead.
Since then, Coinbase has still not directly responded to the backlash.
Perhaps a PEPE listing will now smooth things over and get PEPE fans back on board.
At the time of writing on Wednesday 17 May, the price of Pepe (PEPE) is trading at $0.0000015 – a decrease of nearly 10% in the past 24 hours. Its circulating supply stands at 391,790,000,000,000 PEPE – or 93% of the total.
Its market cap stands at $585,303,547 – down 10.17% in the past day. It had reached $1bn on 5 May when it hit its all-time high of $0.000004354 – 65.54% down from its current price. Pepe is already listed on several crypto exchange like Binance, CoinW, OKX, Bitrue and Deepcoin.