Memecoins are sweeping the market at the moment. The latest craze is SpongeBob token – the Krabby Patty of memecoins. So what is this newest player all about and how does SPONGE work?
It's barely a day old. But let's take a look at the latest SpongeBob price prediction being made as of 5 May 2023.
What is SPONGE?
Well you don't need a PhD for this one. It's based on the beloved Nickleodeon cartoon SpongeBob SquarePants, which also happens to be the most-watched children's TV show of all time. With an already-winning formula like that, who needs a whitepaper?
The community-driven token launched on the Uniswap DEX, where it is noted: "This token isn't traded on leading U.S. centralized exchanges or frequently swapped on Uniswap. Always conduct your own research before trading." Its current DEXTscore is 47/99 for project reliability.
So far, the SPONGE Telegram account has 547 members and just 362 Twitter followers. But on the back of the viral successes of the PEPE and TURBO memecoins, it's already being hyped as the next token to pull in skyrocketing returns for early investors.
SpongeBob price history – SPONGE to pump?
Having launched merely a day ago, SpongeBob token has so far jumped by more than 300%. At the time of writing, SPONGE is trading at $0.0002963 – an increase of 308.25% in the past 24 hours.
According to CoinMarketCap, SpongeBob has a max supply of 40,400,000,000 SPONGE coins with an unverified market cap of $8.7m.
Could SPONGE reach 1,000x gains next? Some crypto YouTubers think so.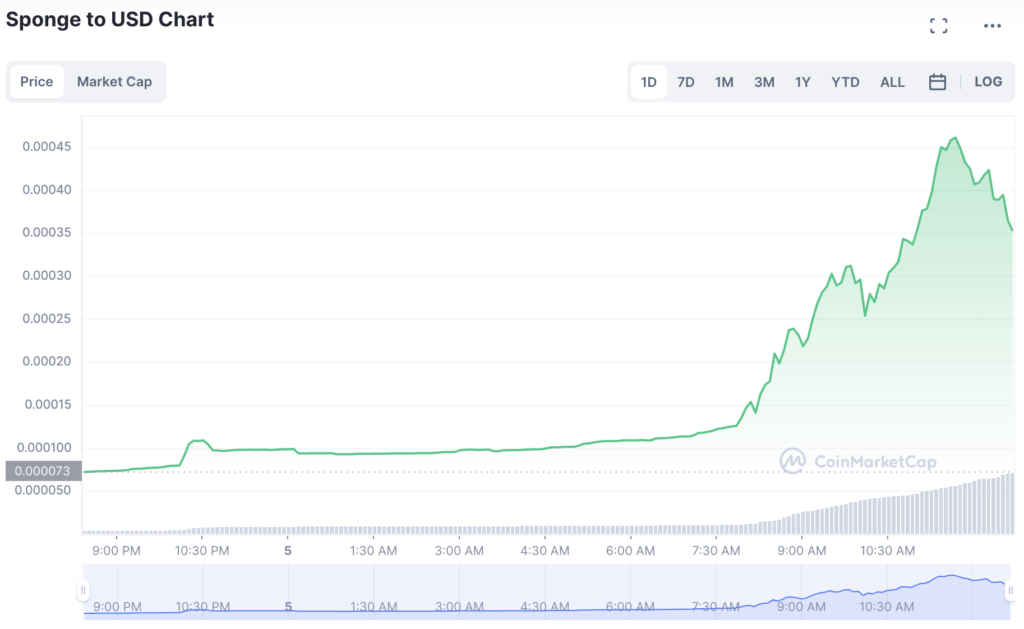 SPONGE price predictions
With all this in mind, what are the latest SpongeBob price predictions doing the rounds as of 5 May?
It is useful to remember that SPONGE is very new, so the usual crypto sites that might have offered a SpongeBob price forecast will not be doing so yet.
First off, a Sponge price prediction for 2023 by DigitalCoinPrice sees the SPONGE price averaging $0.000532 this year. It believes SPONGE will reach $0.000647 next year, while its Sponge price prediction for 2025 foresees the price hovering around the $0.000918 mark in that time. DigitalCoin is bullish and believes: "It is estimated that Sponge's value and growth will be astronomical because it is so powerful and has tremendous potential."
Next, PricePrediction says: "Sponge has shown very strong potential lately and this could a be good opportunity to dig right in and invest." The site reckons the price of SPONGE will be worth an average $0.00029232 by the end of the year. It holds a Sponge price prediction for 2030 of $0.004 and sees it hitting $0.009 in 2032.
SPONGE conclusion
Whether it's frogs or sea creatures, it's important to keep in mind that crypto is extremely volatile, making it difficult to accurately predict what a token's price will be in a few hours, let alone a few years. When considering a SPONGE token price prediction, always remember that analysts and algorithm-based forecasters can and do get predictions wrong.
FAQs
Will SPONGE go up or down?
Past performance is no guarantee of future returns. Always remember to do your own research and never invest than you cannot afford to lose.
Is SPONGE a good investment?
At the time of writing, crypto forecast sites like PricePrediction and DigitalCoinPrice were bullish on SPONGE. However, keep in mind that forecasters can get their predictions wrong.
Should I invest in SPONGE?
That's for you to ponder. It's important to stay on top of the latest SpongeBob news and crypto market developments to decide whether you should invest in SPONGE.