In yet another attempt to regulate the cryptocurrency space, the United States' Senate has raised a new bill targeting the fast-growing decentralised finance sector (DeFi). 
As seen on the Congress website, the bill is titled: "A bill to clarify the applicability of sanctions and anti money laundering compliance obligations to United States persons in the decentralized finance technology sector and virtual currency kiosk operators, and for other purposes."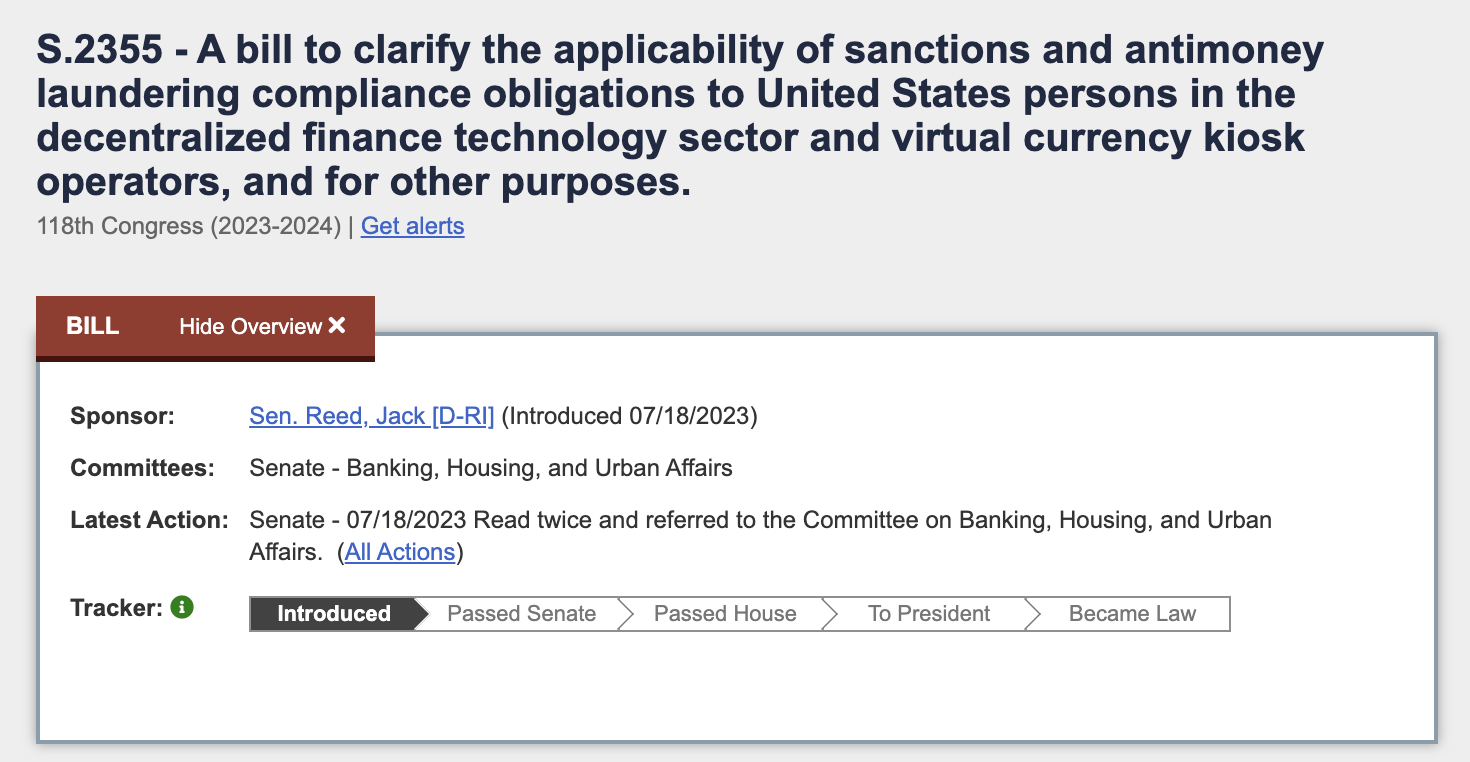 Source: US Congress
The bill may introduce specific obligations and requirements for individuals and entities operating in DeFi in the US sectors to ensure compliance with sanctions laws and anti-money laundering regulations. Its provisions could include guidelines, reporting mechanisms, and enforcement measures to enhance oversight and accountability in decentralised finance.
The newly introduced bill is sponsored by Senator Jack Reed of Rhode Island and co-sponsored by Senators Mike Rounds, Mark Warner and Mitt Romney and is now awaiting committee review.
Reed doubles down on crypto regulation
Reed is no stranger to bills aimed at regulating the cryptocurrency space. In September 2022, he raised the Private Markets Transparency and Accountability Act (the S. 4857). The bill sought to broaden the existing SEC registration criteria by encompassing companies with valuations surpassing $700million or annual revenue surpassing $5billion, along with a minimum of 5,000 employees.
Reed, who is also a senior member of the Banking Committee, was very vocal about the need for regulation after the collapse of FTX. He said that FTX "used cryptocurrency to cook its books and mislead customers, investors, lenders, and regulators".
During a Senate Banking Committee hearing titled 'The Crypto Crash: Why the FTX Bubble Burst and the Harm to Consumers', Senator Reed expressed concerns about the inflated valuation of FTX's assets. He pointed out that the actual value of these assets was much lower than claimed, and the company's liabilities far exceeded its financial position.
He ended saying: "The one thing that seems to be consistent is that the need to regulate not just this industry, but private entities that are controlling a huge amount of funds that are investing in ways that are not obvious to the public, or even to their own shareholders or equity owners. And we have to move. I would suggest as a starting place to legislation I proposed, (referring to the Private Markets Transparency and Accountability Act which he proposed in September 2022)"
The euphoria surrounding Ripple's recent partial victory is at risk of being short-lived due to the introduction of the new bill. Despite the positive outcome, concerns remain as regulators and the government continue to monitor the situation, particularly with the potential for a SEC appeal amid the uncertainties surrounding Judge Analisa Torres' ruling.