Ethereum has not delivered desired results for network activity following the Shanghai upgrade brought in last April, according to market researchers at JPMorgan.
Analyst Nikolaos Panigirtzoglou said in a note yesterday: "While the shift from proof-of-work to proof-of-stake that resulted from the Merge upgrade meant that the energy consumption for the Ethereum network collapsed by more than 99%, the Ethereum supply is shrinking and staking rose sharply (with the amount of ether staked up by 50% since the Shanghai upgrade), the increase in network activity has been rather disappointing."
JPMorgan analysts also state that, while staking has increased by nearly 50%, the Ethereum network's daily transactions, active addresses and total value locked (TVL) of decentralised finance (DeFi) protocols have all witnessed a drop in movement.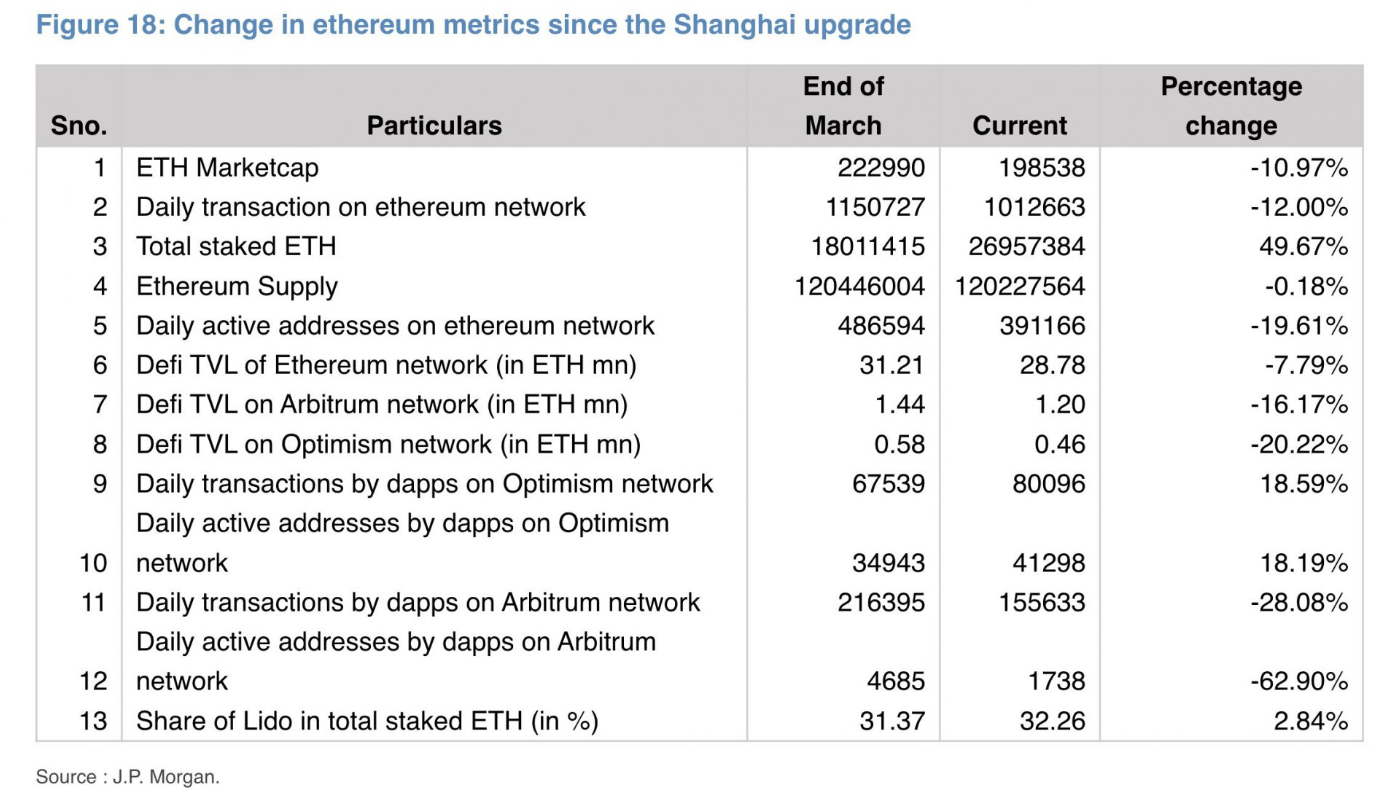 Potential reasons given for the decline in Ethereum activity include the chaotic events of 2022/23, from the collapse of FTX and Terra stablecoin de-pegging, to the ongoing SEC regulatory lawsuits and general diminishing interest in crypto by investors, along with slowing venture capital funding.
The Shanghai upgrade's main objective was to transition the blockchain from a proof-of-work (PoW) to a proof-of-stake (PoS) consensus mechanism.
The analysts also note that Ethereum layer-2 networks have yielded so-so results. Optimism is up, but Arbitrum has declined, while TVL on both Arbitrum and Optimism has drooped since March end, just as Shanghai kicked off in April.
ETH price
At the time of writing, the price of Ethereum is trading at $1,592.68, down 0.64% in the past day. Ethereum's all-time high was reached on 16 November 2021 when it hit $4,891.70, while its all-time low was eight years ago when it dipped to $0.4209 on 21 October 2015. Its market cap currently stands at $191.5billion, according to CoinMarketCap.
On 6 September, co-founder Vitalik Buterin spoke about the issues facing Ethereum in a speech at Nanyang Technological University in Singapore.
Regarding its challenges, Buterin said: "Interestingly, one of the things about the progress of Ethereum technology is that we are talking about things today that are very similar to things we were talking about six years ago.
"If you ask me or anyone else what the biggest problems facing Ethereum are, you'll get basically the same answers: privacy, consensus, smart contract security, and scalability."