The Tamadoge play-to-earn platform and its TAMA token have grown in popularity since joining the market in July of last year.
In a few short months, the TAMA utility token has risen the charts and continues to pique crypto investors with its innovative Web3 Tamaverse pet eco-system.
At the time of writing, the TAMA price is trading at $0.01688 – up 15% in the past 24 hours.
So what is the latest Tamadoge price prediction being made as of 9 May 2023? Let's find out.
What is Tamadoge?
Tamadoge is a nostalgic cross between the 90s Tamagotchi craze and the internet's unwavering love of all things doggo. And in a market over-run with memecoins, Tamadoge aims to be the greatest of them all by setting itself apart from crypto's biggest players such as DOGE and SHIB.
As the team behind TAMA states: "Tamadoge is coming out the gate barking, becoming one of the biggest meme coins of all time and pushing the boundaries of the Play-to-Earn space. We're providing a gaming experience that people will be climbing over each other to play."
Tamadoge combines NFT trading with virtual pets, while TAMA is the currency of the Tamaverse ecosystem. Once a pet is created, they're minted as pups and then grow with time. And just like regular pooches, you must take good care of them. As they grow, they can interact with other pets in the Tamadoge Arcade. Be warned, if you don't take care of them – they will be turned into Tamaghosts.
The Tamadoge Arcade features play-to-earn games such as Tamadoge Run, Tama Blast, Rocket Doge, Super Doge and To The Moon.
Tamadoge is deflationary, with a fixed TAMA maximum supply of two billion tokens. According to the whitepaper, one billion was assigned to the presale, 30% will be unlocked over the next 10 years, and 20% set aside for the exchange pool.
Its current circulating supply is 1,025,380,201 – around 51%. It's available to buy on the Bybit, BitMart, OKX, Deepcoin, and Bitget exchanges.
TAMA price history
Tamadoge (TAMA) came to fruition through a presale from August to September last year that quickly sold out. On 27 September, the Ethereum-based (ETH) token entered the market with a price of $0.02202. Within a month, the TAMA price reached its all-time high of $0.1957 – a leap of more than 788% – on 4 October.
In the new few weeks as the crypto market went through a few more shocks, the TAMA price fell and by the end of 2022, the price had dipped by 92% and was trading at $0.01509 on 31 December.
In the first three months of 2023, the price of TAMA was trading flat around the $0.01 mark. By late April, TAMA rose to $0.0341, around the same time the TAMA team announced upcoming tier-1 exchange listings.
When Tamadoge joined Bybit on 27 April, the price of TAMA was trading at $0.02877 the same day.
At the time of writing on 9 May, TAMA was trading at $0.01688, up 15% in the past 24 hours. With a market cap of $17.3m, it is currently ranked on CoinMarketCap at number 652 within the whole of the whole crypto sphere.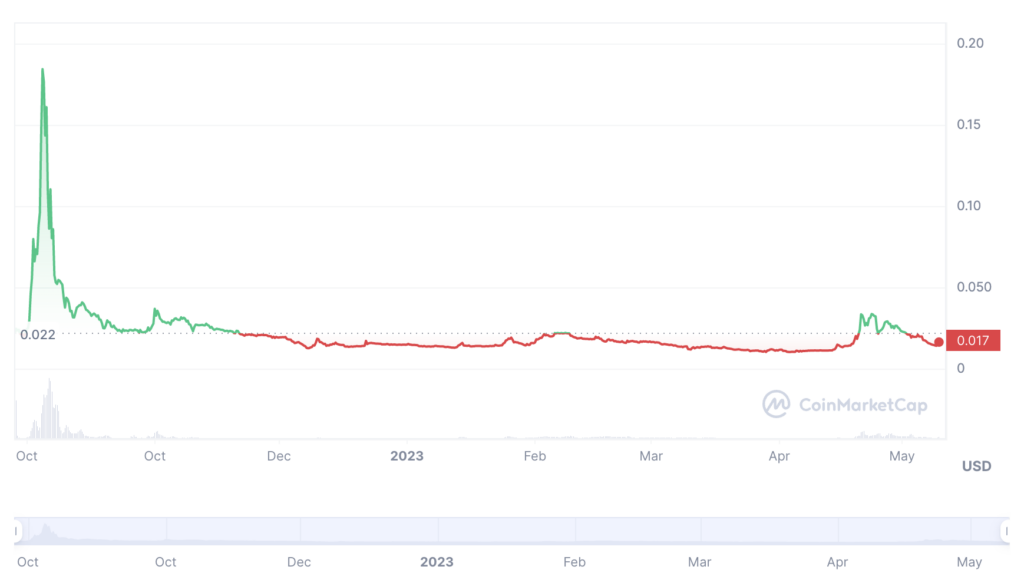 Tamadoge price prediction
Before considering TAMA price predictions being made as of 9 May 2023, remember that price forecasts, especially for something as volatile as crypto, are frequently wrong. Many crypto price predictions are calculated with algorithms, which can veer at any moment.
According to a Tamadoge price prediction for 2023 from CoinCodex, now is a good time to buy TAMA. It sees the price rise by 11.98% and reach $ 0.018753 on 14 May.
Meanwhile, DigitalCoinPrice is currently more bearish on the price of TAMA. Its Tamadoge price prediction for 2025 foresees the price of TAMA averaging $0.0527 that year, while it reckons it will be $0.17 in 2030.
On the other hand, a Tamadoge price prediction for 2030 from PricePrediction believes the TAMA price will be worth $0.26.
When looking for the latest Tamadoge coin price prediction, remember to always do your own research and never invest more than you can afford.
FAQs
Can Tamadoge reach $1?
It could do if it joins the likes of Binance and Coinbase. At the time of writing, TAMA was trading at $0.01688 – 5,824% off the $1 mark.
Is Tamadoge a good investment?
Tamadoge is a new and popular memecoin that continues to grow in stature and dominance within the market. However, all crypto is volatile and past performance is never a guarantee of future returns.
Should I invest in Tamadoge?
That's for you to decide. As always, it's key to remember to do your own research before investing in any coin or token.