After more than two years of a legal tussle, the United States District Judge Analisa Torres has ruled that Ripple's $XRP sales do not constitute an offer of investment contract.
The ruling presents a major victory for Ripple in its case to prove that its native asset XRP does not satisfy all conditions of the Howey Test – a legal test used in the US to determine whether an asset is a security.
The SEC had alleged that Ripple conducted unregistered offers and sales of XRP in three different categories. Firstly, that they engaged in institutional sales through written contracts, receiving $728million. Secondly, they conducted programmatic sales on digital asset exchanges, receiving $757m. Lastly, they made other distributions under written contracts, recording $609m in "consideration other than cash."
These three categories were explored in the case document and conclusions were reached for each.
The court determined that the institutional buyers invested money in exchange for XRP and that their fortunes were tied to the success of Ripple as a result. It also established that such investors purchased XRP with an expectation of profits from Ripple's efforts, based on its communications, marketing campaigns, and the nature of the institutional sales. On this ground, the court deemed the institutional sale of XRP as sales of investment contracts and subsequently, a violation of the Securities Act.
It was however established that Ripple's programmatic sales of XRP, unlike the institutional sales, did not qualify as the offer and sale of investment contracts. According to the document, the programmatic buyers were typically less knowledgeable investors, and there is no evidence to suggest that they possessed the same level of awareness and comprehension regarding Ripple's marketing activities and public statements linking XRP's price to the company's efforts.
The third category of XRP offers and sales, referred to as 'Other Distributions', includes distributions to employees as compensation and to third parties for Ripple's Xpring initiative. The SEC had accused Ripple of funding its projects by transferring XRP to these third parties, who subsequently sold it in public markets. However, the court finds that these 'Other Distributions' do not meet the first requirement of the Howey test, which necessitates an 'investment of money' by the investors. Consequently, the court concluded that Ripple's Other Distributions did not involve the offer and sale of investment contracts.
Garlinghouse celebrates ruling as XRP army comes alive
At the forefront of the enthusiastic XRP community stands Ripple CEO Brad Garlinghouse, who wasted no time in reminding of his earlier commitment to proving the case and defending Ripple's position.
"We said in Dec 2020 that we were on the right side of the law, and will be on the right side of history. Thankful to everyone who helped us get to today's decision – one that is for all crypto innovation in the US. More to come," he tweeted.
The recent ruling has sparked a wave of excitement and speculation within the crypto community, as many anticipate that this decision will establish a significant precedent for other cryptocurrencies. Tokens such as Solana (SOL), Polygon (MATIC), Cardano (ADA), and others, which have also come under the scrutiny of the SEC's regulatory actions, could potentially be influenced by the outcome.
Altcoins rallying following favourable XRP ruling
After weeks of Bitcoin dominance and SEC suppression of altcoins, the tables have swiftly turned. Hero of the day, XRP is currently flying high – trading at $0.6336, it is up 35.4% in the last 24 hours.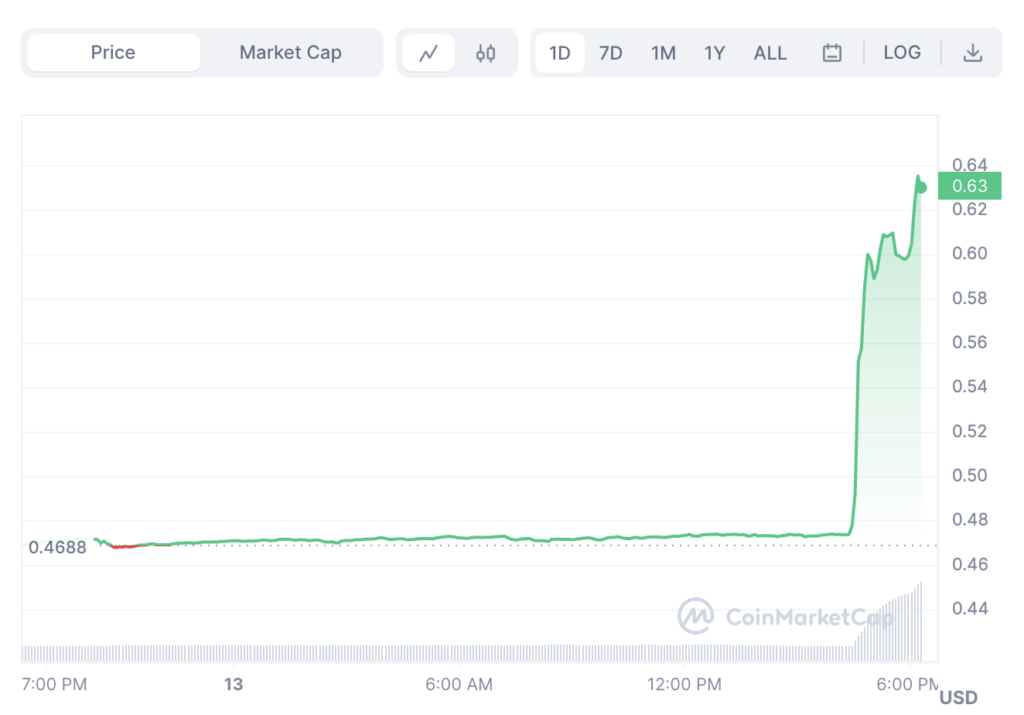 Solana, Polygon, and Cardano have all quickly recorded double-digit percentage gains following the pronouncements. Ethereum is also up by 4.26%, trading at $1,960 at the time of writing.