The $HBAR cryptocurrency has jumped by 15% as the Federal Reserve has integrated a Hedera-based payment provider into FedNow.
Hedera price predictions are conflicted on whether the scalable network can harness this momentum in the long run.
Hedera: A scalable blockchain
Hedera was created back in 2018 to become a scalable, sustainable and "enterprise-grade" network for the decentralised economy. Its mission is to create an environment for developers and businesses to build applications.
"It is designed to be a fairer, more efficient system that eliminates some of the limitations that older blockchain-based platforms face — such as slow performance and instability," its CoinMarketCap page said. 
The average transaction fee on Hedera is $0.0001 and transactions reach finality within five seconds. With scalability in mind, Hedera can handle 10,000 transactions per second. This is much more than standard proof-of-work blockchains.
Hedera was founded by computer scientist Dr Leemon Baird and experienced technology executive Mance Harmon.
What is Hedera Hashgraph?
The Hedera Hashgraph system is at the centre of the network. It is a distributed ledger system that was created specifically for this project.
The Hashgraph is based around the proof-of-stake model that enabled scalability and efficiency in the blockchain industry. 
Its CoinMarketCap page added: "Hedera differs from other blockchains because it uses a new consensus algorithm called hashgraph. It intends to process and execute transactions faster, eliminate delays, and smooth out the TPS."
This scalability means it can process tasks that require high volume transactions. These include micropayments, tokenisation, and data storage.
A bustling ecosystem
Through its Hashgraph system, Hedera has built up a flourishing ecosystem. Many different applications and utilities have been developed on the blockchain. 
Web3 dApps like the Blade crypto wallet, the Aeon metaverse, and the Amari NFT platform have been built on Hedera. DeFi applications have also been developed on the scalable network, including methods for investors to make crypto payments. 
Meanwhile, there are use cases with real-world opportunities. Hedera can be used to verify identities. It is also being utilised for sustainability to harness a "fair carbon market with trust".
The HBAR token
The native HBAR token powers this ecosystem. It has two roles in the network. The first is as a payment for network services. This includes smart contracts, file storage, and transactions.
Its website said: "For every transaction submitted to the network, hbars are used to pay fees that compensate validator nodes for bandwidth, compute, and storage."
HBAR's other utility is to secure the network. Investors can stake their tokens "to assist with maintaining the integrity of the platform".
The cryptocurrency has a total supply of 50 billion HBAR. As of 16 August, 39 billion tokens are currently in circulation.
Hedera has split this distribution between initial development costs, purchase agreements, governance, funding the ecosystem, and the rest is unallocated.
HBAR is not the only token on the Hedera network. The blockchain launched a tokenisation service that allows developers to build their own cryptocurrencies.
Similar to ERC-20 tokens, these are native to the Hedera network. "Tokens issued with the Hedera Token Service are native to Hedera. They adopt the same performance, security, and efficiency as hbar," its website said.
Hedera Hashgraph price analysis
The Hedera cryptocurrency was funded via an initial coin offering during August 2018. HBAR then launched a year later in September 2019. The Hedera mainnet went live during the same period.
HBAR went live at $0.09, but immediately slumped below its launch price. By the end of the month, it had fallen to $0.02.
The cryptocurrency was unable to shake the bearish trend. It dropped to its all-time low of $0.01 on 2 January 2020.
HBAR's price did pick up slightly over the next year. It was roughly floating between the $0.03 and $0.05 mark.
However, it made huge gains during the bull run at the beginning of 2021. HBAR rocketed to $0.14 on 15 February. This came as the network revealed its Hedera Token Service. This is the system that lets developers create their own cryptocurrency on the network.
HBAR managed to maintain the momentum. A month later, the cryptocurrency rocketed to $0.40, a new price record for HBAR. The vast rise in price followed the successful Hedera hackathon. A total of 600 participants were involved in building on the network.
Hedera then reached its all-time high later in the year. It rocketed to $0.57 on 16 September. The same day, the network revealed it was allocating $10billion tokens to developing the ecosystem. 
After a major correction, HBAR did see another price rally in November. This was in line with the bull run at the time. The cryptocurrency reached $0.43 on 13 November.
However, Hedera eventually crashed from these highs as the bear market took control of the industry. After the Terra Luna crash in May 2022, HBAR had fallen below its launch price. As of 16 August, the cryptocurrency has not surpassed the $0.09 mark since.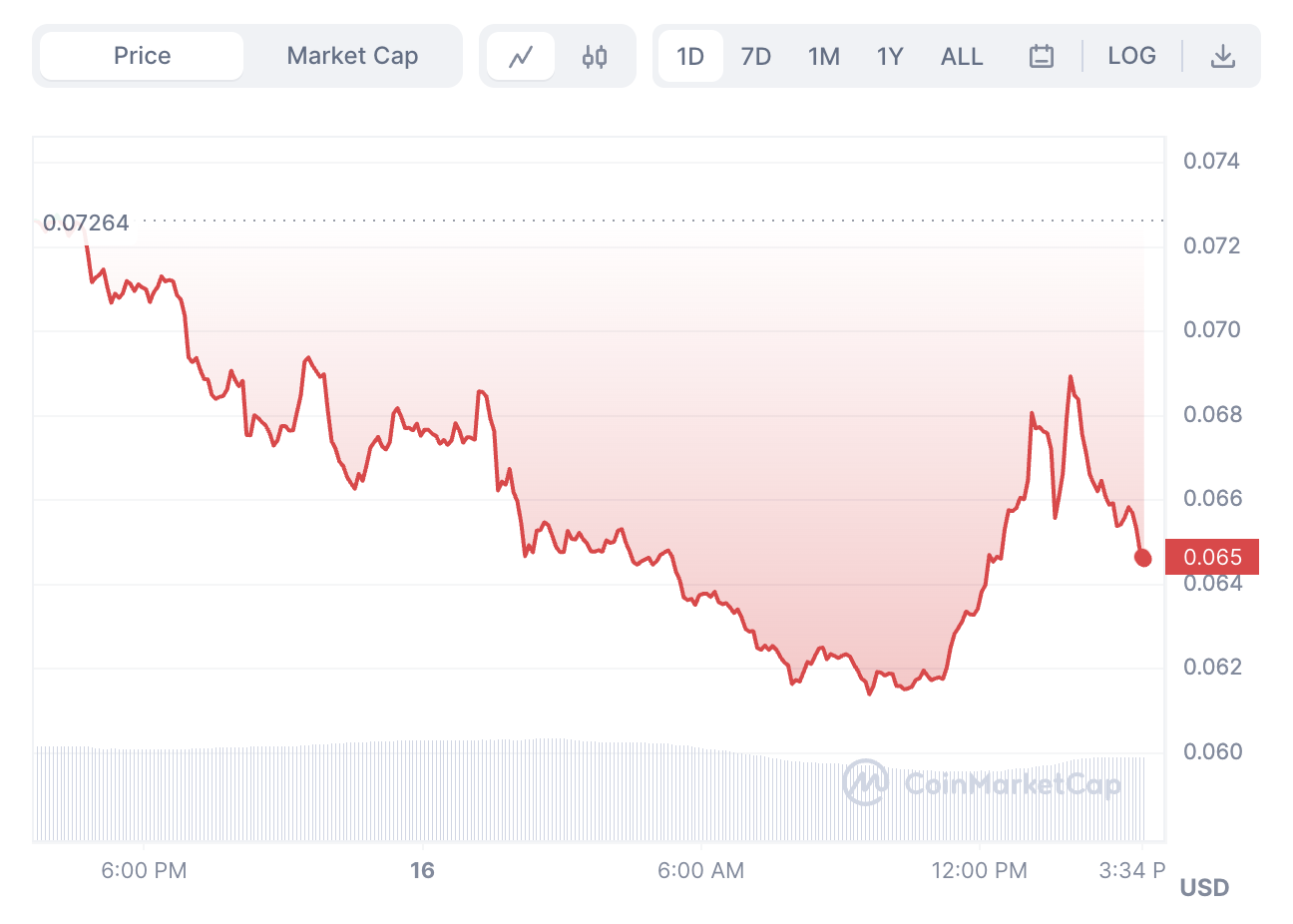 Why is Hedera (HBAR) token surging?
By the beginning of 2023, HBAR had fallen to $0.03. But it has gained slightly since then. At the time of writing, Hedera was trading $0.06.
The cryptocurrency's market capitalisation was $2bn. This gave it a ranking of 30 out of all cryptocurrencies, according to CoinMarketCap.
What affects the price of Hedera Hashgraph?
Hedera recently saw a 15% price surge after the US Federal Reserve added Dropp, the Hedera-based micropayments platform, as a service provider on FedNow.
Hedera (HBAR) price Prediction
There is a range of Hedera price predictions, as of 16 August. However, the recent bullish news has seen many forecasters make optimistic predictions.
Hedera (HBAR) price prediction 2023
CoinCodex said there is currently neutral sentiment for the cryptocurrency. Twenty-two technical indicators gave a bullish signal, whereas 11 signals indicated sell. 
The site's HBAR price prediction for 2023 said it would climb by 9% to $0.067 by mid September. The forecaster gave an upper limit of $0.09 this year and a lower limit of $0.053.
A similar forecast was provided by PricePrediction. It said HBAR would average out at $0.062 this year. It gave a maximum price of $0.065 and a minimum price of $0.059.
An even more bullish Hedera price prediction for 2023 came from DigitalCoinPrice. It suggested the cryptocurrency would rocket to $0.13.
Meanwhile, WalletInvestor said it was a "bad" long-term investment. The HBAR crypto price prediction said it would close the year off at $0.06.
Hedera (HBAR) price prediction 2025
The PricePrediction forecaster anticipated a steady gain for Hedera in the coming years. It suggested the cryptocurrency would hit $0.13 in 2025.
DigitalCoinPrice's Hedera price prediction for 2025 anticipated the coin to reach $0.22. A maximum price of $0.23 was provided. 
On the other hand, WalletInvestor's HBAR price prediction for 2025 saw the cryptocurrency falling in value. The Hedera coin price prediction suggested it would start the year at $0.05 and fall to $0.04 in December. 
Hedera (HBAR) price prediction 2030
Some Hedera crypto price predictions expect new all-time highs over the next decade. DigitalCoinPrice is one of those making bold forecasts. Its HBAR price prediction for 2030 suggested the cryptocurrency would hit $0.64 and rocket to $0.91 the following year.
PricePrediction is even more bullish. Its Hedera price prediction for 2030 gave an average price of $0.86 and a maximum price of $1.
WalletInvestor's Hedera token price prediction only goes up to 2028. However, it does not expect the cryptocurrency to escape the bearish trend. By the beginning of 2028, HBAR is forecasted to slump to $0.01. 
As cryptocurrencies are volatile by nature, it makes long-term predictions hard to make. This is why not many forecasters have been bold enough to make an HBAR price prediction for 2040.
Where to buy Hedera token (HBAR)?
There are currently 98 different markets where investors can purchase the HBAR token, according to CoinMarketCap. Included in these markets are major centralised exchanges like Binance, Crypto.com, and Coinbase. Investors can also use the decentralised exchange SaucerSwap
FAQs
Should I invest in Hedera?
It depends. Hedera hashgraph price predictions are currently mixed. DigitalCoinPrice says "it's good to Buy Hedera right now". However, WalletInvestor has forecasted HBAR's value to plummet over the next five years. Remember, investors should always carry out thorough research before buying any cryptocurrencies. 
Will Hedera (HBAR) reach $1?
Price predictions are conflicted on whether this is possible. PricePrediction and DigitalCoinPrice expected Hedera to reach $1 in 2030. Meanwhile, WalletInvestor suggested it would fall to $0.01. 
Is Hedera crypto a good investment?
Hedera was founded in 2018 to become a scalable solution to the crypto industry. Its ecosystem includes payment providers, NFT platforms, and wallets. Cryptocurrencies are volatile and investors should never purchase more than they can afford to lose. 
Disclaimer: The information provided in this article is for informational and educational purposes only and should not be construed as financial advice. CoinNews and its authors are not financial advisors or experts. We recommend that you consult a professional financial advisor or conduct thorough research before making any investment decisions. Cryptocurrency investments carry a high degree of risk, and you should only invest an amount you are willing to lose. The opinions expressed in this article are those of the author and do not necessarily reflect the views of CoinNews or its affiliates.