Maker ($MKR) has witnessed gains of more than 53% in the past month. So how does this affect the latest Maker price prediction being made as of 27 July 2023? Let's do a round-up and see.
What is MakerDAO (MKR)?
Imagine MakerDAO as a magical vending machine that creates a special currency called DAI. Florence approaches this machine to get some DAI. But before she can use it, she needs to set up the machine by locking in some valuable items as collateral. These items represent the security for the DAI she's about to generate.
Florence owns some valuable items like gold and precious stones. She puts these items into the vending machine's vault. The vending machine recognises the value of these items and calculates how much DAI Florence can generate based on their worth. Now that Florence has locked her collateral in the machine, she presses the magical button, and the machine generates an equivalent amount of DAI tokens for her. These DAI tokens represent her claim on the collateral she deposited.
Florence can now use her newly minted DAI as she pleases. She can spend it, save it, or trade it for other assets. The magical vending machine will hold her collateral safely until she decides to return the DAI and reclaim her items.
While the vending machine analogy simplifies the process, the underlying mechanisms of Maker involve more complex smart contracts and economic models. Let's explore further.
Maker is a Decentralised Autonomous Organisation (DAO) on the Ethereum blockchain that enables users to issue and manage DAI, a dollar-pegged stablecoin when they deposit collateral assets. It is able to achieve this by using a special kind of smart contract known as Collateralized Debt Positions (CDP). 
CDPs secure the collateral assets provided by a user, allowing them to create DAI. However, generating DAI results in accumulating debt, which in turn locks the deposited collateral within the CDP until the debt is settled by returning an equivalent amount of DAI. Only after repaying the debt the owner can retrieve collateral. Notably, active CDPs are consistently overcollateralised, ensuring that the value of the collateral remains higher than the debt amount at all times. This over-collateralisation helps mitigate solvency and volatility risks and encourages responsible borrowing.
Maker started off as a Single-Collateral DAI (SCD) platform, accepting only Ethereum as collateral for users to generate DAI. It has however metamorphosed into a Multiple-Collateral DAI (MCD) system. This new system enables community members who are part of the DAO to propose new collateral assets. These proposals undergo a voting process where other community members can cast their votes should the proposed assets meet specific pre-defined criteria set by the governance system.
MKR price history
MKR serves as the ERC-20 governance token powering the Maker ecosystem. As holders of MKR tokens, individuals gain the privilege to actively participate in shaping the future of the platform. This active involvement enables them to propose and vote on various initiatives, decisions and changes that collectively govern the MakerDAO ecosystem.
MKR started trading in Q2 2017 at around $288. By December, it surged significantly, reaching approximately $959.91. This growth was likely influenced by the increasing popularity of blockchain and the broader cryptocurrency market rally during that time. 
The frenzy eased in early 2018 and MKR price experienced a sharp decline during the crypto bear market that followed. By March 2018, the price had dropped to around $517.55. There were minimal fluctuations throughout the rest of the year as MKR mostly ranged between $450 to $680.
It eventually broke the $700 price mark in early 2019, surging to $805 in April. The resurgence was however short lived and in July, MKR price hit $489. The next couple of months were uneventful in terms of price movements, with MKR closing the year at $430.
The year 2020 started off on a rocky note for MKR as it plummeted to $177. It however regained momentum, surging to $455 by June. The gradual ascent continued over the next few months in the second half of 2020, with MKR price eventually closing the year at $586.
2021 was marked by growing interest in DeFi and an overall market enthusiasm. This set the stage for a market wide bull run, which positively impacted MKR's price. 
MKR reached a new high of $2,029 by February, representing a percentage gain of approximately 246% from the start of the year. The price continued to rise, and in April 2021, MKR reached approximately $4,355.27, breaking the previous high in the process.
The rollercoaster ride continued into May 2021 when MKR reached its all-time high of $6,339. Following the peak, it experienced a period of correction and consolidation, which is common after a substantial price surge. It retraced to around $2,103.51 in August 2021. MKR price maintained this range and subsequently closed the year at $2,337.
After riding the wave of arguably the greatest bull market so far, MKR faced a correction in 2022, like many other cryptocurrencies. Despite the change in market conditions, MKR price decline wasn't sharp. By March 2022, it still hovered around $2,085, while many other cryptocurrencies were experiencing freefall. 
It however lost the $2,000 support zone a month later, and ended April at $1,452. MKR continued to dip further as Q2 2022 came to a close. By August, MKR hit $764 and eventually closed the year at $510.
Since the start of 2023, MKR has experienced notable upward momentum. In March, its price reached $970. Although it has slightly retraced since then, MKR continues to exhibit promising growth and remains an asset of interest for investors and traders alike.
At the time of writing, MKR is up 0.03% in the last 24 hours and 53% in the last month.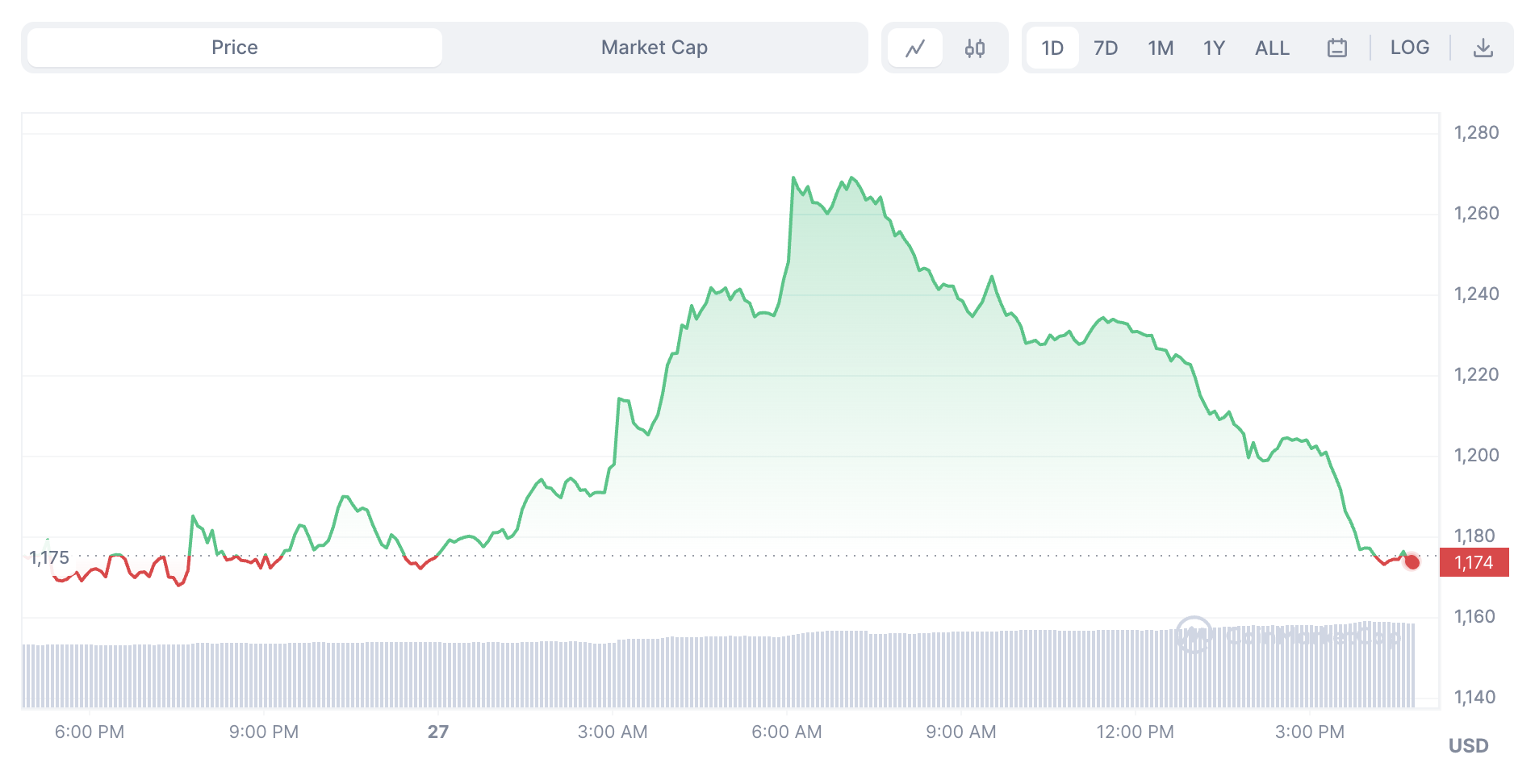 MKR's remarkable recent performance has captured the attention of traders, with a substantial 176,668 users on CoinMarketCap and 59,976 on CoinGecko keeping a close watch on its developments. As traders eagerly observe its price movements, it piques curiosity about Maker price prediction over the years, creating an engaging subject for exploration.
Let's deep-dive into analyst predictions!
Maker (MKR) price prediction
DigitalCoinPrice predicts the MKR price to hover around $2,381.63 this year, with a minimum of $1,055.02 and a maximum of $2,578.71. Moving to 2024, a price surge is projected at an average $2,933.69, and mostly ranging between $2,520.71 and $3,026.88.
By 2025, Maker crypto price is projected to be approximately $3,946.34 and a year later, a 27% gain is anticipated at $5,028.84. 
The average MKR price is forecasted to be approximately $6,216.39 in 2028, with a range between $5,566.75 and $6,452.
In 2030, the momentum is expected to continue with MKR price reaching $12,089.48. Projecting further into the future, the forecasts suggest a continuous upward trend, with average prices of MKR reaching $16,419.73 in 2031 and $22,806.20 in 2032.
According to PricePrediction's forecast, the price of MKR is anticipated to show a consistent upward trajectory. In 2023, experts forecast an average price of approximately $1,255.81, with further projections suggesting a surge to $1,878.40 by 2024. Its Maker coin price prediction for 2025 expected to hit $2,755.88.
The years beyond 2025 hold even more potential for MKR's value going by the forecast. By 2026, they envision the average price climbing to approximately $4,004.01. The bullish trend appears to continue into 2027, with MKR's average price predicted to soar to around $5,706.07. And for those with a long-term vision, 2028 could prove to be even more rewarding, with MKR's average price projected to surge to approximately $7,897.87.
The year 2029 appears to be a significant milestone, as MKR price is predicted to reach an impressive $11,145.92. Finally, 2030 is expected to be a year of tremendous growth, with MKR price anticipated to hit around $16,512.96.
Bitnation predicts that MKR price will hit $1,759.63 this year, with fluctuations ranging from $1,407.70 to $2,111.55. Next year, the forecast foresees a rise in the average price to $2,932.71.
Looking ahead, the projection for 2025 suggests an average MKR price of $4,105.79, with a minimum of $3,753.87 and a maximum of $4,457.72. 
For subsequent years, the forecast shows a steady increase: $6,451.96 in 2027, $7,625.05 in 2028, $8,798.13 in 2029, and $9,971.22 in 2030.
Maker price prediction 2023
In 2023, DigitalCoinPrice forecasts a price range of $1,055.02 to a maximum of $2,578.71 for MKR. PricePrediction is slightly more conservative, projecting a price of $1,255.81, while Bitnation is more bullish with a prediction of $1,759.63.
Maker price prediction 2025
For 2025, DigitalCoinPrice holds a bullish stance, expecting MKR to surge to $3,946.34, which is more than three times its current value. PricePrediction aligns closely, with an expectation of $2,755.88. On the other hand, Bitnation's projection for 2025 is even more optimistic, speculating that MKR could reach $4,105.79.
Maker price prediction 2030
For the year 2030, the predictions remain optimistic. DigitalCoinPrice anticipates MKR to trade at $12,089.48, while PricePrediction is even more bullish, suggesting a price of $16,512.96. Bitnation's forecast falls between these two, expecting MKR to reach $9,971.22 in 2030.
Where to buy Maker (MKR)?
As the 41st largest cryptocurrency by market capitalisation, MKR is listed on numerous top tier exchanges including Binance and Coinbase. It is also available for purchase on KuCoin, Kraken, Bitfinex and decentralised exchanges like Uniswap.
FAQs
Should I invest in Maker?
Investing in MKR should be dependent on your personal investment goals, risk tolerance, and market conditions.
How high could MKR price go?
DigitalCoinPrice expects MKR to go as high as $22,806.20 by 2032. Like other predictions analysed, this is purely speculative and should not substitute proper research when investing.
Is Maker crypto a good investment?
MKR has strong fundamentals, long-term viability and many other factors that would ideally make a decent investment choice. However, it is also important to evaluate other factors such as market sentiment, your risk tolerance etc.
Disclaimer: The information provided in this article is for informational and educational purposes only and should not be construed as financial advice. CoinNews and its authors are not financial advisors or experts. We recommend that you consult a professional financial advisor or conduct thorough research before making any investment decisions. Cryptocurrency investments carry a high degree of risk, and you should only invest an amount you are willing to lose. The opinions expressed in this article are those of the author and do not necessarily reflect the views of CoinNews or its affiliates.