Despite the fears surrounding FTX liquidation and higher-than-expected US Consumer Price Index (CPI), the cryptocurrency market took to the green as top coins rose in price slowly.
While Bitcoin maintained its place above the key $26k price level, demand for $XRP grew as Ripple prepared for its institutional use. Memecoin $SHIB also took to the bullish side following the massive burn of 61 million tokens in the last 24 hours.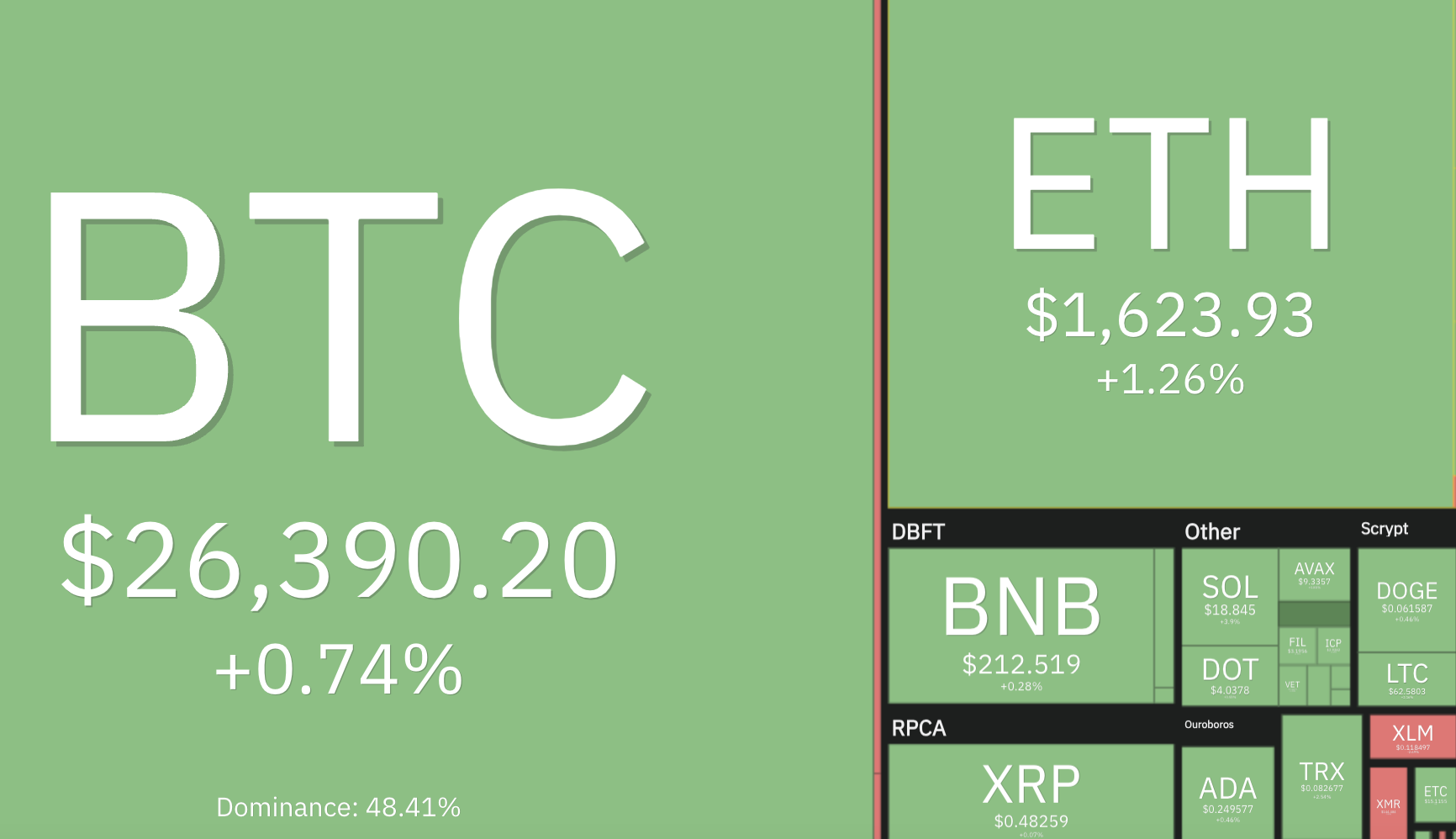 Bitcoin maintains steady ground at $26k
Bitcoin took the lead in showcasing positive price movements in the broader cryptocurrency market as it stood strong above its key $26,000 level.
According to Blockware Solutions and Glassnode, the on-chain data for the top coin is showing bullish undercurrents. The week started off with the percentage of $BTC's circulating supply active on chain within the last month falling to a record low of 5.4%. This meant that fewer coins were changing hands, indicating supply-side weakness. Its price is now set at the margin which means that those who trade Bitcoin back and forth drive short-term price action.
Therefore, as supply-side illiquidity continues to increase (as indicated by fewer supply exchanging hands) any demand catalyst will send the price skyrocketing, noted Blockware Solutions. 
XRP demand grows with Ripple's Fortress buy
Last week, Ripple broadened its portfolio of regulatory licenses in the US with the acquisition of Nevada-headquartered chartered trust company – Fortress Trust – that focuses on crypto and Web3. As its second acquisition this year, the San-Francisco-based fintech company seems to have accelerated its business, preparing $XRP for institutional use. As financial institutions set forth to adopt RippleNet and utilise its ODL, they will be posed with the option of whether to hold $XRP temporarily.
Analysts predict that most will move to directly hold the token out of convenience and from a cost-saving perspective, directly increasing its demand. This was already being seen as the altcoin was moving up on its charts, changing hands for $0.481 as of press time. 
Shiba Inu burns 61m tokens in the 24 hours
A 65% increase in burn rate was noted for Shiba Inu which burned a total of 61,229,037 $SHIB tokens in the last 24 hours. This comes in at a time when Shiba Inu whales continue to accumulate $SHIB, indicating their growing interest in the memecoin at its current price.
As observed in the past, burn rate helps in reducing the circulating supply of the Shiba Inu protocol to a very large extent, setting the token up for price gains in the long run. This was already visible as $SHIB was seen moving up on the price elevator at press time.
FAQs
What is happening with crypto today?
The global cryptocurrency market capitalisation stood at $1.09trillion today as the market enjoyed a positive shift by almost 1% in the last 24 hours. Top cryptocurrency Bitcoin was trading at $26,308 at the time of press, up by 2.2% over the last seven days. This helped the coin to shift its trade to the green side on its charts. The positive price movements of $BTC also seemed to influence other top coins as most of them were rising in price along with the king coin. 
Which coins are up today?
The leading gainer within the top 100 cryptocurrencies by market cap was Kaspa ($KAS) enjoying a daily rise of over 5.4%, trading at $0.0488 at press time. It was followed by Hedera ($HBAR) with a 4.7% increase. Solana ($SOL) and Litecoin ($LTC) were some of the other top altcoins seen in this list. Almost all of the leading cryptocurrencies were slowly rising in price today.