Coins were back to trading in the green, riding on the back of an on-and-off bullish sentiment that has continued for the last few weeks. Bitcoin hit its yearly high as whales hoarded more than 30,000 $BTC in just five days. Solana sustained its increasing price momentum with a 260% year-to-date rise. Cardano, on the other hand, reached an 18-month high in its dormant holder activity.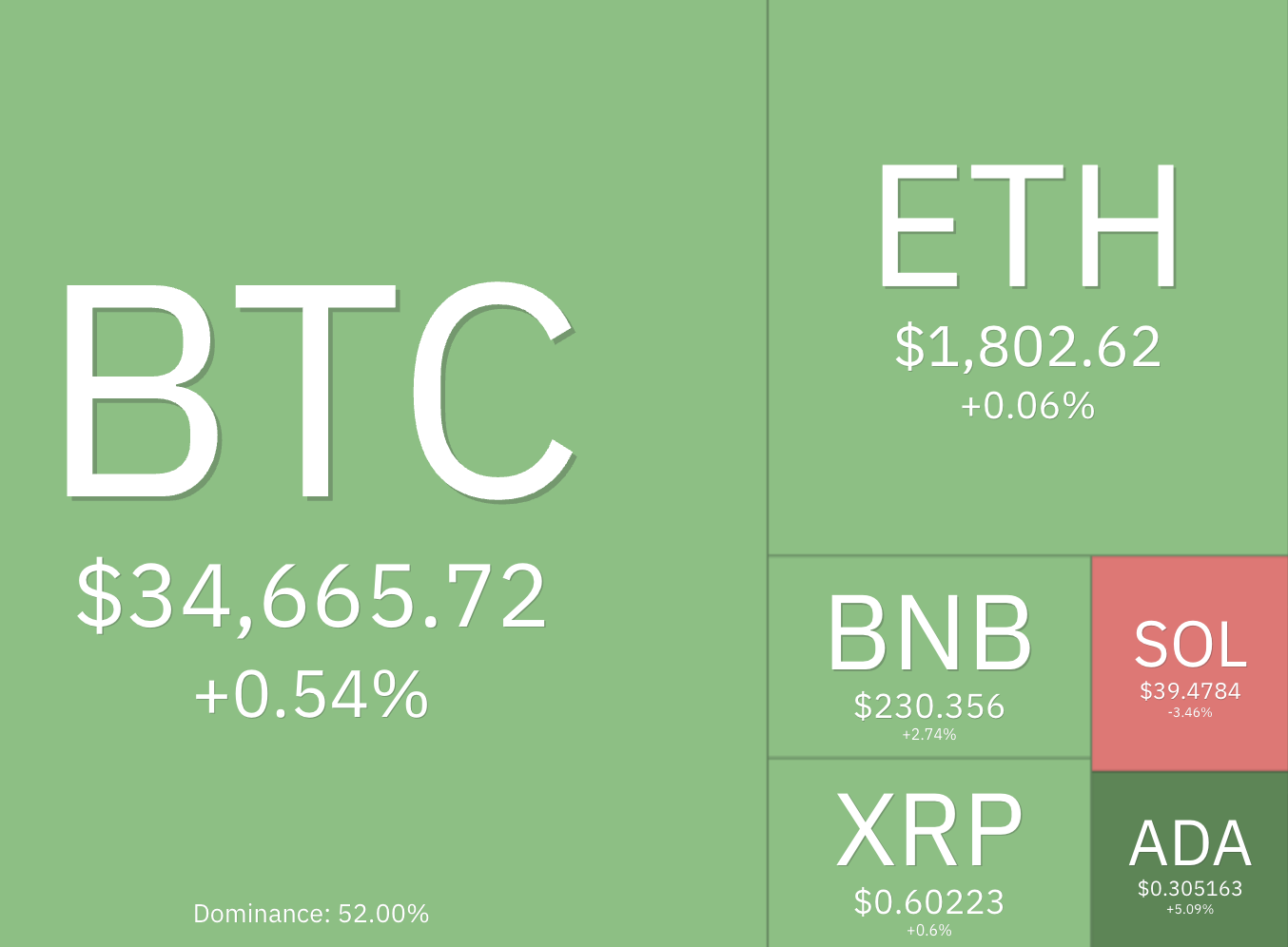 Bitcoin hits yearly high at $35,400
The top coin has been on a bull run recently, touching an yearly high of approximately $35,400. This seemed to be a result of the continued optimism regarding the imminent approval of spot Bitcoin exchange-traded fund (ETF) by the US Securities and Exchange Commission (SEC). As the cryptocurrency soared in price, whales acquired more than 30,000 $BTC in just five days. This was worth nearly $1billion as of press time. Bitcoin whales are the ones that have a wallet balance of over 1,000 $BTC. The latest move depicted a substantial appetite for the coin among these major players in the market.
Solana rises 260% year-to-date
Solana outperformed a majority of the top coins as it rose by about 260% year-to-date. In doing this, the coin successfully broke through its key $35 barrier. It has been up by over 70% in the last 30 days. This was facilitated by the continued betting on $SOL by institutional investors. It was trading at $41 at the time of press. The last time the token was at this price level was back in August last year.
On its chart, its relative strength index (RSI) also went past the 74 barrier. When the indicator, which has a reading between 0 and 100, stands above 70, it means that the asset is starting to become overbought or overvalued.
Cardano enjoys increasing dormant holder activity
Cardano has been the recipient of a rising dormant holder activity, which has now peaked to an 18-month high. Recently, it was observed that 30 October was the largest day for the old $ADA tokens movement in a year and a half. It then hit its highest level since April 2022.
During the same period, the token's largest holders, also known as whales/sharks, with between 100,000 and 10 million $ADA, started accumulating again. This helped the token to continue trading in the green, taking it up by over 6% weekly. 
FAQs
What is happening with crypto today?
The global cryptocurrency market was at $1.34trillion in capitalisation as it rose by over 11% in the last 24 hours. Bitcoin maintained its position above its key $34,000 price level, continuing its trade in the green. Almost all of the other top coins were also moving up in price, holding onto the green side in their respective charts. 
Which coins are up today?
The top gainer within the top 100 cryptocurrencies by market cap was Decentraland ($MANA) enjoying a daily rise of over 11%. This took it to trade at $0.39 at press time. It was followed by Uniswap ($UNI) at $4.51, with another 11% increase. This price level was last seen in October for the token. Aave ($AAVE) and Synthetix Network ($SNX) were the next two to follow, with an 8.4% and 7.8% rise in price, respectively. While the former was changing hands for $91.32, the latter touched a weekly high of $2.48 before coming down to trade at around $2.36 at the time of writing, according to CoinMarketCap.