The price of ARPA ($ARPA) is currently rallying by more than 55% to $0.1008 at the time of writing.
Its market cap has grown 54% to $125million, while 24-hour volume is up by 362%, according to CoinMarketCap live data.
So what could be behind the sudden rise? And what is ARPA about?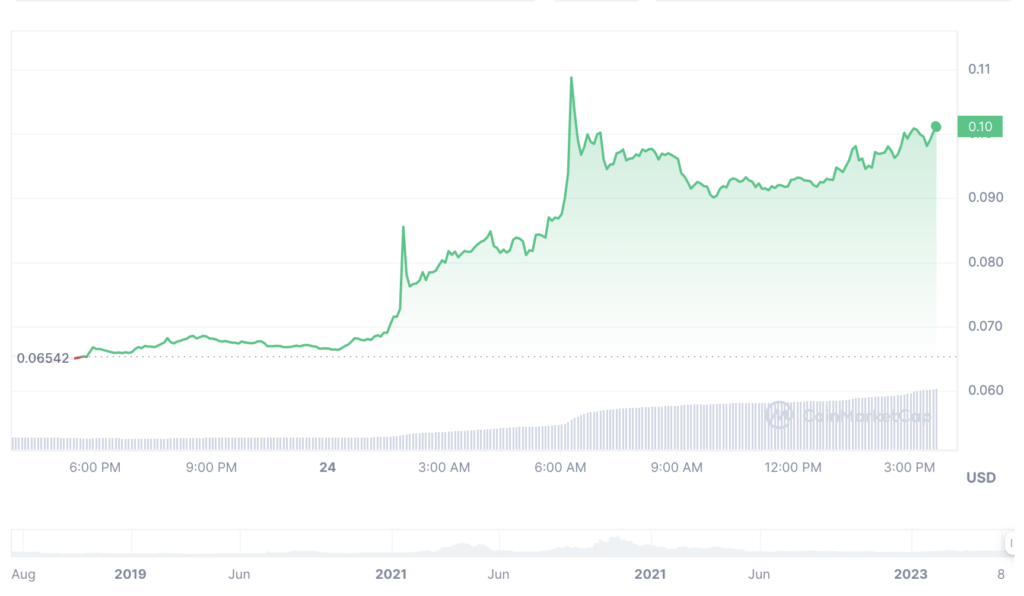 ARPA was previously known as ARPA Chain, a Multi-party Computation (MPC) network founded in 2018.
According to its whitepaper: "ARPA Network provides an efficient, permissionless threshold signature service for blockchains. At its core, the ARPA Network contains a threshold BLS signature that meets the need for decentralization, non-interactivity, verifiability, and high availability. The system is designed and implemented to work with blockchains and provide threshold signature capability for users.
"Nodes of the ARPA Network are grouped to handle computation tasks in parallel. We utilize a smart-contract-capable blockchain as a bulletin to manage dynamic global states and coordinate multiple groups. It is expected that developers can build applications like secure key management, cross-chain messaging, and quorum approval on our network.
"Finally, Randcast is proposed as a distributed random number generator as a use case of the ARPA network."
And it's over to their Twitter account to explain what Randcast is…
More ARPA news
ARPA recently published their ARPA Monthly Report | March & April Combined Progress Review on Medium.
On 25 April, it was announced that ARPA secured a multimillion-dollar strategic investment from DWF Labs.
"This partnership will enable us to bring new levels of privacy, security, and fairness to the industry while also accelerating ARPA's R&D efforts. With DWF's extensive experience and resources in the digital asset market, we are confident that this investment will help to propel our growth and empower us to develop more groundbreaking solutions for the blockchain ecosystem," ARPA stated.
The current CoinMarketCap ranking is number 178. It has a circulating supply of 1,242,888,889 coins and a max supply of 2,000,000,000 ARPA.