The Ankr Network token ($ANKR) recorded significant gains in the 2021 bull run, capitalising on the entry of institutional investors and the popularity of DeFi. The utility token soared to an all-time high of $0.2252 on 28 March that year after it was listed on Coinbase and named as the top validator on Binance smartchain.
However, as time passed and the excitement of the bull market subsided, broader discussions have emerged regarding the performance of ANKR outside of such bullish conditions. So what can we expect of ANKR coin price for the rest of 2023?
Before proceeding to find the latest ANKR price prediction, let us consider and discuss factors that are a reflection of its price.
What is ANKR?
One of the interesting features offered by blockchains like Ethereum is the ability to build decentralised applications (Dapps) which are powered by smart contracts. Following the DeFi frenzy in 2021, a lot of projects sprung, harnessing this feature to create new solutions ranging from yield farming to decentralised exchanges and staking to name a few.
However, there exists a significant gap in the operational framework of many decentralised applications. Despite their aims, these applications are often developed using centralised services and rely on centralised infrastructure for running their nodes. This creates a paradox, as the very essence of decentralisation (distributed decision making and resilience) is undermined by this reliance on centralised components.
Ankr Network resolves this problem by providing a decentralised infrastructure for Web3 developers and businesses to deploy and run their applications.
It offers a decentralised cloud platform that leverages underutilised computing resources, such as idle processing power and storage capacity from individuals and data centres worldwide.
According to the whitepaper: "Ankr Network is a decentralised network of nodes built for Web3 developers to provide flexible and cost-efficient connections to blockchains."
Now that we've developed a good understanding of Ankr Network, let us deep dive into its price history.
ANKR price history
The Ankr Network (ANKR) token was launched through an Initial Coin Offering (ICO) in 2018, with early investors having the opportunity to acquire ANKR at a price of $0.0066 per token. The ICO marked the initial phase of ANKR's introduction to the market and allowed early participants to obtain ANKR tokens at a favourable price.
Since becoming available on the open market, ANKR price has been subject to market dynamics, investor sentiment and other factors that influence price direction.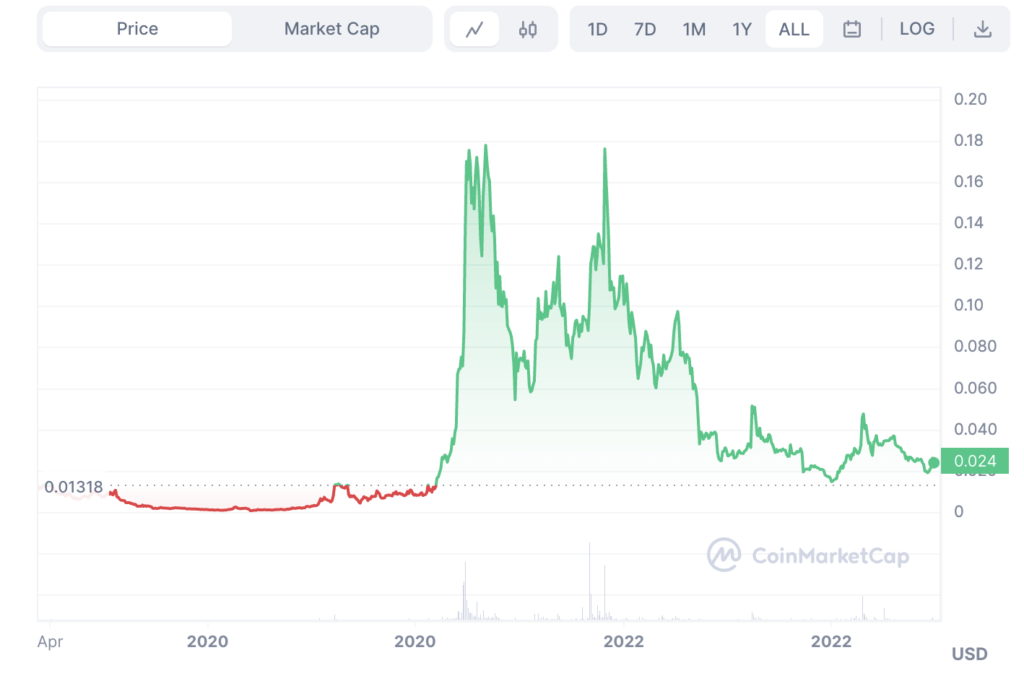 In mid 2019, the ANKR token had a price of around $0.0104, with a daily trading volume ranging from $5-$6million. However, the rest of the year brought a downward trend, and by December, the ANKR price had dropped to $0.0015, accompanied by a significant decrease in trading volume to around $900k to $1m.
The tides turned in August 2020 when ANKR reached new heights, hitting $0.01317. On the 8th of that month, it achieved a remarkable daily trading volume milestone of $230m. The upward momentum continued, and by February 2021, ANKR had more than doubled its 2020 high, reaching $0.027.
This marked the beginning of a major resurgence for ANKR. On 22 March, a staggering $1.24bn worth of ANKR was traded across all exchanges as the token continued its upward climb.
ANKR's ascent to an all-time high was not all smooth sailing. Its price chart exhibited occasional retracements, but it demonstrated notable growth over a broader timeframe.
In May 2021, ANKR experienced a significant surge, reaching a price of $0.17. This surge was part of a broader market trend driven by increased institutional interest and the booming DeFi sector. However, the market underwent a sharp correction shortly afterward, resulting in ANKR's price dipping by approximately 60% to around $0.068 in the following month.
ANKR hovered around this range throughout the rest of June till July and only broke the $0.1 price mark in August. The next two months were largely uneventful on the charts for ANKR as it traded between the $0.08 and $0.1 range. This set the foundation for the upward trend that saw it reach $0.17 in November.
By early 2022, the entire market was heavily corrected as the bears raged on. Between January and June, ANKR plummeted by 56%, trading around $0.02 to $0.03.
The rest of 2022 till date has been rather quiet with no significant price movements in either direction. Today, at the time of writing, the ANKR price stands at $0.02428.
While the $ANKR price has shown a remarkable increase of 91.8% since ICO based on the current price, many investors and market participants are pondering what the future holds for the coin. Is ANKR a good investment in today's saturated market? What is the ANKR price prediction for 2023? How much will ANKR be worth by 2030?
These are some questions yearning for answers.
ANKR price prediction
Wallet Investor is currently bearish on its ANKR crypto price prediction. It predicts that the ANKR will plunge to $0.00293 in 2024. This represents a substantial decline of approximately 87.8% from its price today. The forecast expects ANKR price to reach $0.32 in August 2023 before it dips and closes the year at the $0.0024 mark.
DigitalCoinPrice expressed a positive sentiment towards ANKR's future performance. Their prediction suggests that ANKR has the potential to experience a significant surge of approximately 242%, reaching a price of $0.0872 by the end of 2025.
This optimistic projection continues all the way to 2032 when they tip ANKR price to exceed $0.4.
GovCapital is also bullish on ANKR's future prospects. Their one-year forecast predicts a target price of $0.095 for ANKR, representing a significant increase of approximately 295.8% from the current price.
Their long-term projection for ANKR is equally optimistic. They predict that by 2028, ANKR could reach a price of $0.498.
An ANKR price prediction for 2025 from PricePrediction believes the price will be $0.069 that year. Its ANKR price prediction for 2030 projects it to rise to a maximum of $0.52. The forecasts suggest an overall bullish sentiment, anticipating growth and positive performance for Ankr in the long term.
FAQs
Q: Is ANKR a good investment?
ANKR has enormous potential for growth as more developers and projects within the space leverage the Ankr Network infrastructure for their project. In terms of forecasts, three of the prediction platforms explored share a positive sentiment while only one is bearish on ANKR. However, always remember to do your own research before buying into any coin or token.
Q: Will Ankr (ANKR) reach $1?
Achieving a $1 price mark may appear ambitious, given ANKR's circulating supply of 10,000,000,000 tokens. However, with favourable market conditions and continued efforts from the team in terms of development and growth, such a milestone is within reach. PricePrediction projects ANKR price to hit $1 by 2032. However, it's important to note that crypto predictions involve inherent uncertainties and should be considered alongside other factors.
Q: Will $ANKR go up or down?
With any crypto, price fluctuations and corrections are to be expected. It is crucial for investors to exercise caution and only allocate funds they can afford to lose due to the inherent volatility associated with cryptocurrencies.