$BTC is down 1.52%, while other cryptos such as Toncoin ($TON), eCash ($XEC) and Optimism ($OP) are some of the day's biggest losers so far.
It follows the news that Mt. Gox has pushed back the deadline for its planned repayments by another year, the trustees for firm said today, suggesting investors probably priced in rumours of the move.
Last April, the defunct crypto exchange had announced that the deadline for its repayments would be 31 October 2023. But that has now been pushed to 21 October 2024.
The exchange, which filed for bankruptcy in 2014 after being hacked to the tune of 850,000 Bitcoin (BTC) – worth nearly $23 billion at current prices – has been embroiled in a lengthy legal battle with creditors seeking to recover their lost funds.
The exchange has managed to recover around 20% of the stolen tokens after the hack, with the situation being compounded by fluctuating crypto prices complicating the liquidation process.
The price of Bitcoin is currently trading at $26,686.74, down 1.52% in the past day.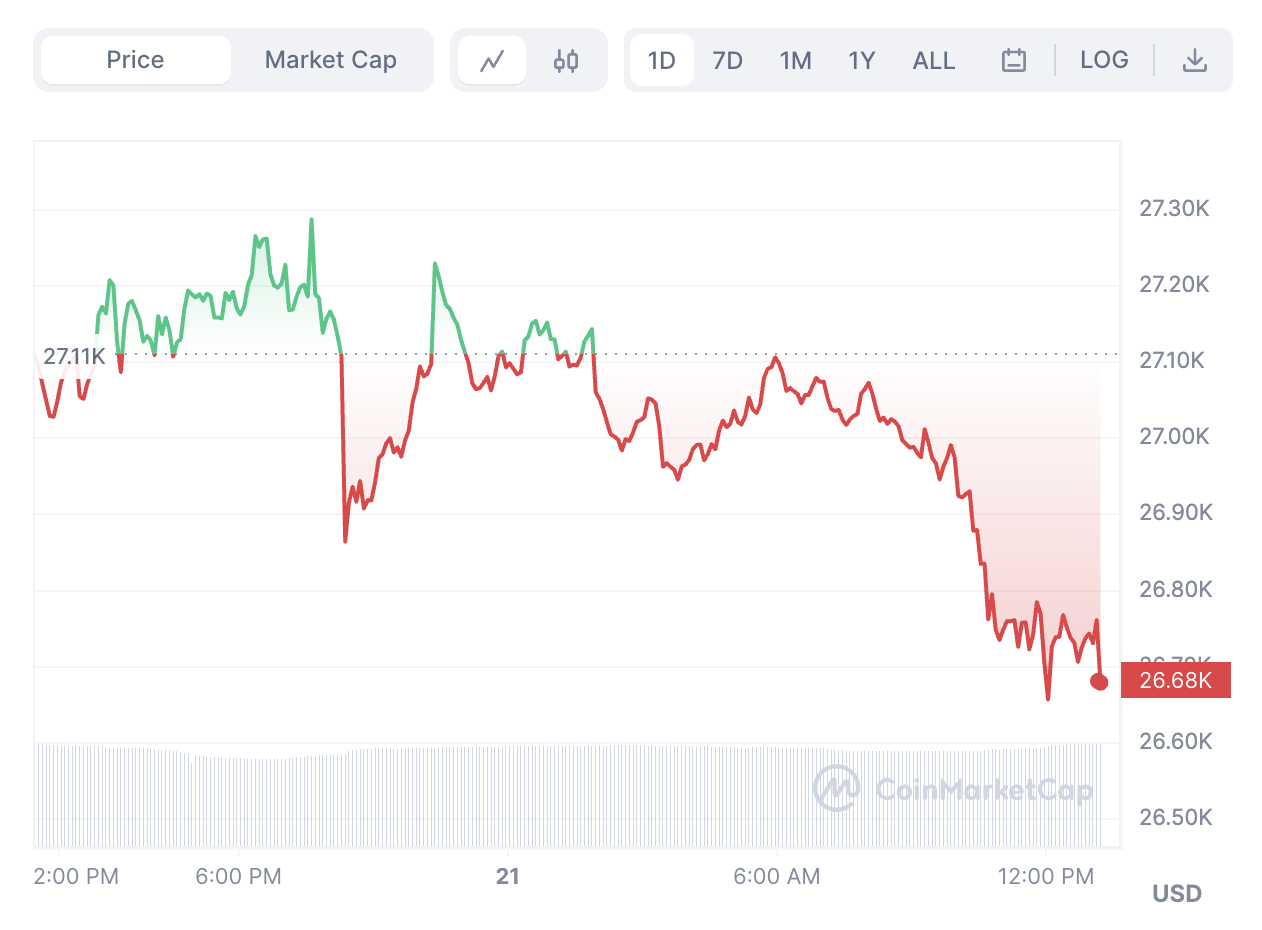 At the time of writing, the top three losers were Toncoin, down 6.51%, eCash, down 6.54%, and Optimism at 5.26% in the red. The Optimism Foundation said it had sold 116 million OP tokens, worth $139m at the current market value, to seven different buyers "for treasury management purposes".
Meanwhile, Immutable (IMX) is the day's biggest hit, in the green by 22.97% to trade at $0.6626, thanks to South Korean trading volumes. It's followed by Algorand (ALGO) at 3.56%, and (MultiversX) EGLD at 2.70%.
Overall, the global crypto market cap is trading at $1.06trillion, a 1.43% decrease in the past 24 hours, according to the latest data from CoinMarketCap.
The Mt. Gox saga continues
Mt. Gox has already paid out over $1bn in BTC to creditors, but many are still awaiting the return of their funds.
The Mt. Gox debacle is a cautionary tale about the importance of securing funds in cryptocurrency exchanges. It highlights the risks associated with investing in digital assets and the importance of taking adequate measures to protect one's investments.