It's only been a week, but Pepe 2.0 ($PEPE2.0) has quickly managed to jump the charts in a very short time while also making memes great again. So what's the latest Pepe 2.0 price prediction being made as of 5 July 2023? Let's take a look…
What is Pepe 2.0?
Pepe 2.0 is the reincarnated version of frog-inspired memecoin Pepe. It burst into limelight last week, building on the popularity of its model meme and quickly capturing the heart of meme enthusiasts.
This newest meme presents itself as a second chance for people who missed out on Pepe. So how is Pepe 2.0 different from PEPE? Well Pepe 2 aims to address some of the missteps in the development and launch of its predecessor. The mistakes mentioned include blacklisting certain investors, and the decision to launch on a weekend. 
The website's "about" reads: "$PEPE knows he made mistakes in the past, blacklisting some investors, launching on a weekend when you were spending time with your family and friends. He wants to make things right and redo his billion dollar run, he's a new version of himself, he is now PEPE 2.0. #PEPE2."
Even though PEPE 2.0 boasts a unique and specific mission, setting it apart from typical memecoins, it hasn't lost the thrilling and entertaining aspects that make memecoins so appealing to the community. This blend of purpose and amusement gives it a distinct and engaging identity, attracting both serious investors and those looking to participate in the playful and exhilarating world of memecoins.
In a short time from launch, it amassed a staggering follower base across its social media platforms, and it set off a trend that sparked the emergence of reincarnated versions of Shiba, SafeMoon and Saitama Inu. 
PEPE 2.0 price history
Despite its launch being just about a week ago, Pepe 2.0 is already displaying promising signs of following the footsteps of its successful memecoin predecessor. Like Pepe, early investors benefitted massively from its price surge, with one user selling 1.78T PEPE2.0 for 37 ETH after buying double of that for 0.1 ETH.
Over the past seven days, Pepe 2.0 has experienced a remarkable surge in price, soaring by an impressive 1,352.41%, as reported by CoinMarketCap's price chart. During this period, its market capitalisation reached a high of $46m, but following a correction, it has now settled around the $25m mark.
Given the current market trend, memecoins have gained immense popularity, contributing to Pepe 2.0's substantial trading volume. Its 24-hour trading volume has hovered between $15m and $45m since launch.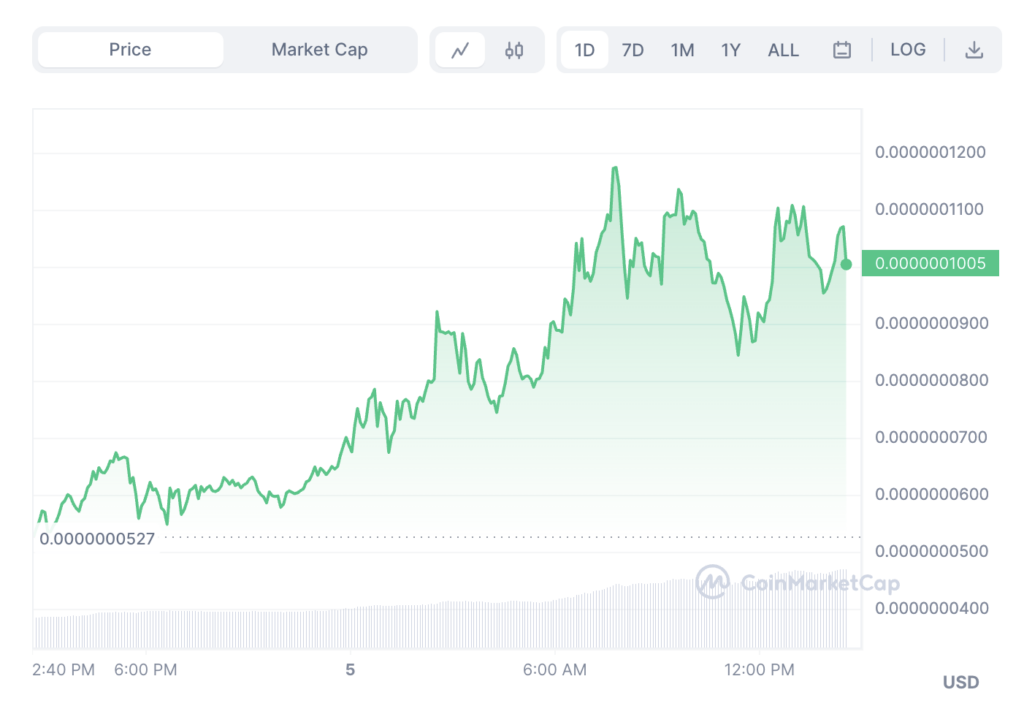 The momentum from the previous week has seamlessly transitioned into the current week. At the time of writing, in the last 24 hours alone, Pepe 2.0 has seen a staggering 106.06% increase in value, with the token now trading at $0.0000001055.
Pepe 2.0 has demonstrated impressive performance in a short span, yet doubts persist regarding its long-term prospects. In the cryptocurrency realm, only a select few altcoins manage to thrive over the long haul, and memecoins, with limited utility, face even greater challenges. However, the enduring popularity of memecoins like Shiba and Dogecoin, along with Pepe's own strong following, suggests the possibility of sustained relevance for Pepe 2.0.
Looking ahead to 2024, 2025, or even 2030, the question of Pepe 2.0's future price becomes a point of interest.
PEPE 2.0 price prediction
According to a Pepe 2.0 price prediction from DigitalCoinPrice, the crypto is expected to experience significant growth with substantial percentage increases. Starting from its current price of $0.0000001055, the projections indicate a steady upward trajectory. Its Pepe 2.0 price prediction for 2025 is an average $0.000000374. Moving forward to 2027, the forecast predicts prices around $0.000000460 – an increase of 254%.
By 2032, Pepe 2.0 is anticipated to soar to a maximum price of approximately $0.00000208, representing an impressive percentage increase of approximately 1,871.56%. While fluctuations are to be expected along the way, the overall forecast points towards a promising future for Pepe 2.0.
From CrowdWisdom's PEPE2 coin price analysis, we can observe a pattern of increasing prices over time. In 2023, the projected price is $0.00000008, which indicates a potential upward movement from the current price level. By 2025, the forecast suggests a price of $0.00000014, showing continued growth and a more than 75% increase compared to the prediction for 2023. Looking further into the future, the forecast for 2030 shows a substantial jump, with the price predicted to reach $0.00000040, implying a significant rise of more than 185% from the 2025 projection. These predictions collectively suggest a positive trend for Pepe 2.0, indicating potential price appreciation and sustained growth over the years.
We can deduce from CoinDataFlow's forecast that the Pepe 2.0 price is projected to experience fluctuations over the years, with both upward and downward trends. The predictions indicate that the price will likely increase from 2023 to 2025, with a significant price range expansion, reaching up to $0.00000071. Its Pepe 2.0 price prediction for 2030 forecasts a maximum of $0.0000006 that year.
FAQs
Is PEPE 2.0 crypto a good investment?
Memecoins like Pepe 2.0 are renowned for their extreme volatility. They lack use cases and strong fundamentals and are usually sentiment and community-driven. Despite these, they can yield really good returns. It is therefore advisable for users to only bet as much as they can afford to lose.
How high can PEPE 2.0 go?
At the time of writing, DigitalCoinPrice predicted a Pepe 2.0 price high of $0.00000101 in 2030, while CrowdWisdom and CoinDataFlow projected $0.00000040 and $0.0000006 for the same year, respectively. It is important to consider other factors before investing.
Can PEPE 2.0 do 100x?
According to DigitalCoinPrice: "It is estimated that Pepe 2.0's value and growth will be astronomical because it is so powerful and has tremendous potential." However, always remember to do your own research before investing in any coin or token. Cryptocurrencies are very volatile.
Disclaimer: The information provided in this article is for informational and educational purposes only and should not be construed as financial advice. Coin News and its authors are not financial advisors or experts. We recommend that you consult a professional financial advisor or conduct thorough research before making any investment decisions. Cryptocurrency investments carry a high degree of risk, and you should only invest an amount you are willing to lose. The opinions expressed in this article are those of the author and do not necessarily reflect the views of Coin News or its affiliates.