Launched in 2016, Waves ($WAVES) markets itself around four key characteristics: simple, scalable, eco-friendly and open. It is a 'community‑based stack' of decentralised open‑source technologies to build applications that are scalable and user‑friendly.
How does Waves work?
Waves heralds itself as a proof-of-stake (PoS) blockchain network, a decentralised exchange, and a wallet that allows individuals to easily create their own coins as well as exchange and trade cryptocurrencies. The protocol also boasts smart contract capabilities.

From open finance and personal identification to gaming and handling of sensitive data, its technology stack can benefit in any use cases that demand security and decentralisation.

Its growing ecosystem is being utilised by a number of leading players in the industry. This includes the Neutrino Index (XTN), which is the index token collateralised by a set of Waves ecosystem tokens and governed by the user community.

Another one is swop.fi, which is an automated market maker, based on the Waves blockchain. It combines several types of liquidity pools for volatile assets and stablecoins.
What is Waves token?
The Waves blockchain is set on a leased proof-of-stake blockchain. This means that the light nodes do not download the blockchain. Instead, they rely on full nodes for payment verification and network interaction.

This gives the light nodes the ability to lease their tokens to full-staking nodes to secure the blockchain. Full-staking nodes are the only ones that can add blocks to the Waves blockchain.

This comes out to benefit individuals who want to participate in the staking process, but do not have the bandwidth to operate a full node. They can lease their tokens to a full-staking node for .002 Waves, receiving an interest of up to 5% per year on the balance that they leased.

Instead of a block reward, the miners receive all the transaction fees in the block plus an additional token, called the Miners' Reward Token (MRT), for processing transactions. Therefore, MRT is native to the Waves platform and is distributed to the miners (full-staking nodes) for validating and relaying transactions on the Waves blockchain.

The Waves blockchain has the capacity to process about 100 transactions per second, and blocks are added to the blockchain about every minute.
Its native token is WAVES is an uncapped supply token used for standard payments such as block rewards. WAVES' all-time high was $62.36 a year ago on 31 March. Since then its price is down 96.42% from that peak. Its circulating supply is 111,913,900.
Waves news
Last week, crypto exchange Binance announced that it would support the upgrades and hard forks of the Waves network. This took place when the Waves block height hit 3,720,000, on 6 July. Deposits and withdrawals of WAVES were suspended starting from around 17:00 UTC on 7 July.
At the time of writing, the price of WAVES was trading at $2.29, a rise of more than 11% in the past day.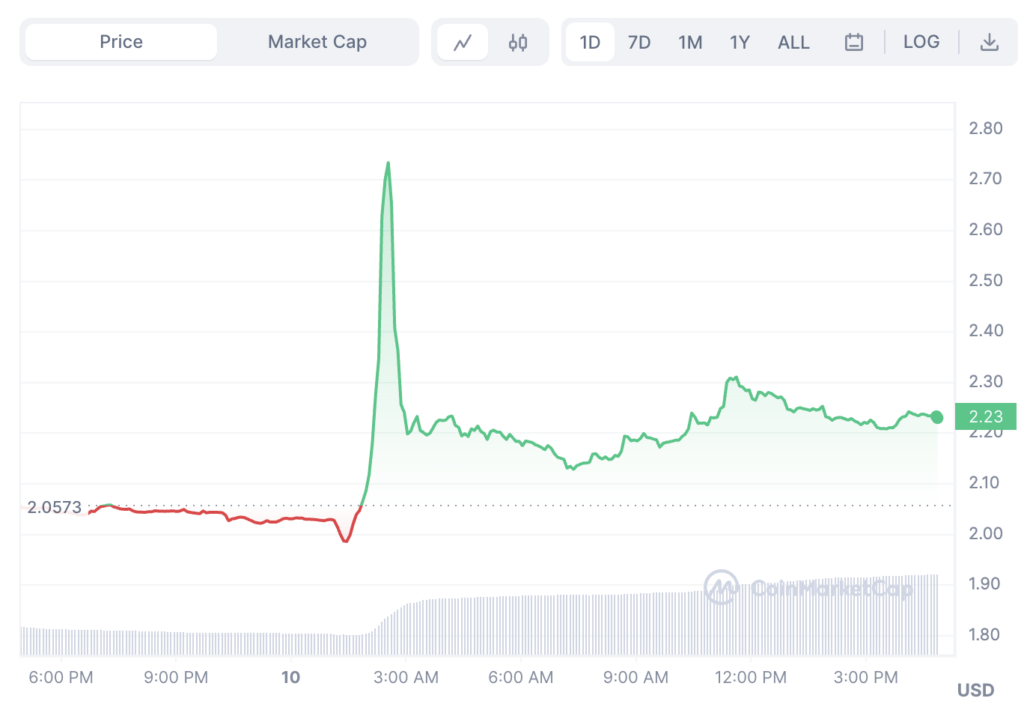 FAQs
Is Waves a good crypto?
That's for you to decide. As per CoinGecko, $WAVES reigns as the 149th-largest cryptocurrency by market capitalisation. It has a circulation supply of $100m, with a fully diluted valuation standing at around $228m. Always remember to do your own research first.
Where can I buy WAVES?
$WAVES is the native token of the Waves blockchain and is used to secure the network through staking, and pay for fees.
These tokens can be traded and bought on a number of centralised crypto exchanges. Binance is the most popular exchange to do the same. Other platforms that are popularly used include QMall, YoBit, Kraken, Okex, Huobi and Bithumb.
The only decentralised exchange that offers the buying and selling of the token is Waves.Exchange.
How much is $WAVES?
At the time of writing on 10 July, $Waves was enjoying a double-digit price rise by over 11% in the last 24 hours. At the time of press, it was changing hands for $2.29. This stood as a seven-day high for the token as it traded green in its charts. It was also up by almost 20% weekly, boasting a market capitalisation of $250m at the time of writing.